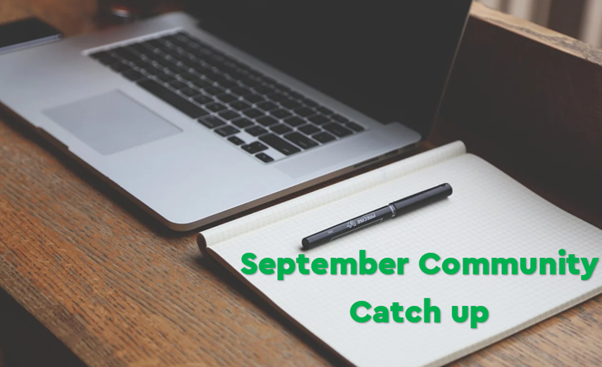 Let's take a look back at what's been happening on the Community over the last month. Not everyone is logged onto the site everyday and with so many people coming to one place to access support, it can take some time to catch up with what's been going on over the past few weeks.
This month we welcomed 2,041 new members to the Online Community. With more and more people joining the site, we are seeing more people share experiences. Cancer patients, loved ones and carers posted 3,147 replies which shows how much support is offered from you, our members, every day.
There are many different reasons for visiting the Community, but once you're here, you'll find that you're not alone in dealing with your situation. There are thousands of people sharing their experiences and offering a comforting words when you need to hear them.
How has the Community helped you?
"YOU are really not alone. It's natural to be scared of the unknown. Please don't worry yourself into a "TIZZY" like I did. Help is available, talk to the experts and people who have gone through it. This online community can be of great benefit just like it was for me. Once again thank you all. Take care and look after yourselves--THINK POSITIVE AND NEVER LOSE HOPE."
Bucephalus, Head and neck cancer forum
"Thank you, the replies I have had given really lifted my spirits."
Debbie60, Head and neck cancer forum
"It's nice to get some more info from someone who's been there"
Louise_74, Womb (uterus) cancer forum
"I am beginning to think I am reinventing myself every few months when the next curve ball comes along. This path of trying to find our new selves is a puzzling one, but I have found good help, encouragement, sympathy and a kick up the bum on this site."
Gemmary, Life after cancer forum
"It is great that you have found this group, the support on here is invaluable, so much better when it comes from people who have been there."
Juliesss, Head and neck cancer forum
"This is a great place for help and information."
JoJoGunne, Prostate cancer forum
"I found the advice from those who had gone through the journey reassuring both those who were a few years on and still cancer-free and those just a little further ahead whose journey I could use to set my goals (although everyone's journey is different)."
Shell12, Head and neck cancer forum
"Glad to have found this forum feeling less alone x"
Sharonjane, Bladder cancer forum
"I am new to this group and reading all the posts, I am now reassured that there are people out there who understand the difficulties when caring for a relative with lung cancer."
joobs, Lung cancer forum
"Thank you all so much, your words have been reassuring."
Sylvershadowfox, Breast cancer forum
"I have found this online community is a good coping mechanism for me. I was always one for bottling up everything inside, and once the shock of the Cancer had become normal (if there is a normal with Cancer), once I could physically tell people without breaking down, that actually made me feel better.
The only comforting thing is that everyone on this online community has the same thing in common, just it affects different people in different ways."
Stevecam, Prostate cancer forum
What have you been asking our experts?
Although the Ask a Nurse section is temporarily closed, there were still 33 questions asked to our Financial guides, Information and Support advisers and the Work Support Officers. If you have a question for the professional teams, they can provide practical, emotional and financial guidance tailored to your situation..
Clinical trial, health and life insurance:

"Hi I have been invited to take part in a clinical trial, and one of the items on the paperwork suggests I speak to my Private health insurance and to life insurance about how my policy might be affected. I was looking for a little guidance on what they might ask me before I ring them, and what affects there might be. I have an appoint in a week to decide if I want to do the trial.
We are currently using my husband health insurance for an NHS cash benefit while I'm receiving Pembrolizumab for metastatic melanoma which is about to stop because of disease progression. I have previously had a cash benefit when going into hospital. I'm assuming that for the 3 weeks I will be in hospital for the trial I won't get the cash benefit, but I'm now wondering if it may have any longer term knock on affect on my eligibility after the trial. We haven't used the health insurance for private treatment. My life insurance is a whole of life policy is there anything in particular I should be looking for in the documents.
I hope you can help so that my phone call is a little less awkward."

See the reply from Chris, one of our Financial Guide's, by clicking here

Finding work after diagnosis:
"I'm looking to return to work after my diagnosis and being labelled vulnerable during Covid-19. I've applied to trainee jobs in Photography, graphic design, Artworker and digital marketing but got nothing so far.
It was during treatment that made me realise how much I want to pursue a job in the creative industry/sector. I know that'll be a job I'll love to be in. Not just go to a job for the sake of a pay check.
I do have a background in retail, as fun as it was. I want to move from that industry and into the creative sector. I have a degree in photography, be nice to actually use it and not waste it?"
See the reply from Rachel who's one of our Work Support adviser experts by clicking here.
Depression:
"My chemotherapy sessions are over and I am very weak mentally. I am crying all the time .. I am very scared of my future. And that the cancer will come back. I am disappointed and I have nothing but fear and panic. I live with my wife and son and I have no other friends or family in this country. I feel very lonely because my English is not very good, even I can't sleep well and have nightmares. could you please help me."
See the response from Jenna, one of our Information and Support experts, by clicking here.
What's new to the Community?
September shared the spotlight for several different awareness months. The following Community news blogs highlighted:
If you're new to the Community, you may find posting in the New to the community forum a helpful place to start if you're not quite sure which groups to join yet.

One of our Community champions describes this group "like the Community Reception area as there are many cancer types and experiences so likewise the Community has many support groups." - thehighlander, New to the Community forum.
If you spot a new member in one of your Community groups, I'm sure you will offer a friendly welcome and offer any support you can. There is a comment box below for you to tell new members how the Community has supported you and anything you'd like to share to help them get started.