Welcome to our Help Pages. Here, you should find everything you need to know about making the most of the Online Community.
Please navigate the Help section by clicking on "Help" on the list on the left. This will bring up a drop down menu where you can find what you're looking for: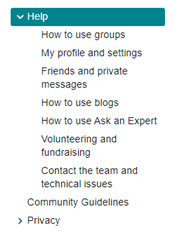 If you're unable to find the answer to your question, please check our Frequently Asked Questions (FAQs).
You can also ask the Community team by popping over to our Help discussion group. You can also email us at community@macmillan.org.uk.