There's no one size fits all when it comes to cancer treatment and dealing with side effects. Although there can be common side effects such as hair loss, sickness and fatigue, not everyone will experience them.
Hair loss seems to be a side effect that many people worry about when having chemotherapy treatment and the use of a scalp cooling system (also referred to as the cold cap) may have been mentioned to you.
If you're wanting to hear from those who have used the scalp cooling system (cold cap), or are curious about what scalp cooling is, then this blog has what you are looking for.
Here on the Online Community we often see questions like the following posted on the site. If you have a similar question, why not start a discussion in our Community groups or post a question in the Ask an expert section.
"Did anyone opt for cooling caps and is there evidence that they work? I would be interested in hearing anyone's experiences. Hair loss is the most upsetting bit at the moment for me. I am interested in trying cool caps but don't want to feel that it is for no point and it will come out anyway. If you have used them- what's the actual procedure? I will obviously ask at my appt but just trying to prepare the best I can."
Community member, Womb (uterus) cancer forum
"Hi has anyone else tried the scalp cooling before Chemo and does it work?"
Community member, New to the community forum

"Hi, just wondering how you go about getting a cold cap to help with hair loss? I've had my 2nd round and it's coming out extremely fast now."
Community member, Ask an Expert section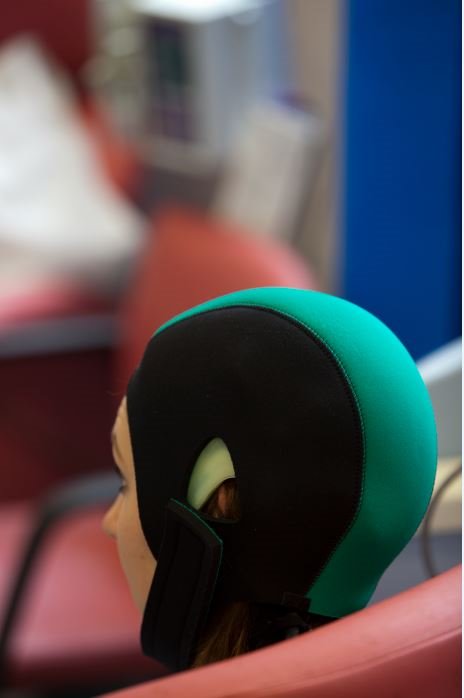 What is scalp cooling (cold cap)?
Scalp cooling tends to be a preventative method of stopping hair loss during cancer treatment. There's more information about what the Cold cap is on the information pages on the Macmillan website. You may want to read the 'Reducing hair loss during chemotherapy' blog written by one of our content developers here at Macmillan.
Don't forget you can also contact the Nurses and support teams on the Macmillan Support Line if you have questions about scalp cooling or coping with hair loss. They're there to help every day from 8am to 8pm when you call 0808 808 00 00, send an email or start a live webchat during the opening hours.
Why not look at some of the questions already posted in our Ask a Nurse section like this one here. You're welcome to ask a question of your own if you would like more information or guidance on your situation.
There's also some tips for hair loss towards the bottom of the page if you're looking for some additional guidance.
Community member's experiences and thoughts
Below are some of the experiences that have been shared with others in our Community groups about using scalp cooling. Please remember that everyone is different and members are speaking from their own personal experience.
"I've just finished my chemo and managed to keep a lot of my hair using the cold cap. I found I got a bit paranoid about my hair falling out as I went along. I cut it short before starting treatment. The advice to get through the first 15 mins of cold capping worked for me - I stopped noticing it after that. It is a bit uncomfortable, but I would say try it and see how you get on."
Community member, Breast cancer forum
"On my cycle a different nurse put on a smaller cap and I remember I kept touching the top of the cap and pushing it down to make contact. I lost a lot of hair and maybe it's because the cap didn't fit snugly enough. I also know of a younger lady has used the Cold cap, she also lost some hair around hairline due to cap not making good contact, she had long hair and was advised to get it cut to a long bob otherwise too much hair needs to be squeezed under the cap and again contact won't be as good.
It's very very cold, painfully cold for the first 20 minutes but bear with it as it doesn't last long and you will get used to it."
Community member, Womb (uterus) cancer forum
"I didn't find it too bad at all, as others have said after the first 10 mins or so you stop feeling it. It did make me very cold, the nurses would give me a heat pad to help keep me warm! So do take a warm cardi or blanket with you even though we're getting into summer now.
it worked very well for me. I shed throughout from about 2 weeks after the first dose. But I kept around 70% of my hair I'd say, just a bit thin on top and a wide parting by the end. By about 6 weeks post chemo you couldn't tell as the regrowth covers the scalp, and now my eyebrows and eyelashes have come back I'm feeling I look much more like myself again. So I'd recommend giving it a go and see how you get on."
Community member, Breast cancer forum
Deciding to have scalp cooling is a personal choice and something to be discussed with your health care team. Hopefully the experiences above can offer some guidance and reassurance if that's what you were looking for.
If you've decided to not have scalp cooling during your chemotherapy treatment like the following members have, then you may be looking for some hair care guidance. Towards the bottom of the page, there's some resources you may find helpful.
"I choose not to cold cap due to the next weekly chemo I couldn't face bring at the hospital for an extra 3 hours."
Community member, Breast cancer forum
"Hi my sister is due to start chemo soon (just had mastectomy and lymph nodes out), she's not going to use the cold cap as she already gets migraines, so we expect her to lose her hair. I said I'd look into options for her as she's got enough to get her head around with chemo treatment plans etc."
Community member, Breast cancer forum
If you are experiencing hair loss at the moment, you may find the Macmillan Information pages about this helpful. It covers different topics that may be concerning you such as how to get a wig, emotional effects of losing your hair and practical advice.
· Let's talk about cancer and hair loss- Community news blog
· Coping with hair loss- information booklet
· Post-surgical menopause, chemotherapy, and hair loss- Sunita's blog
· Hair loss: information and guidance - Community news blog
Have you used the cold cap and want to share your experience with others? Use the comment box below to share how you're coping with this. Also if you have any hair loss tips, please share them for an upcoming blog we are planning to feature.