In this blog, Content Developer Azmina explores the possibility of using a process called scalp cooling during chemotherapy to reduce or prevent hair loss.
Some cancer treatments can cause hair loss or thinning, and this affects people in different ways. Our hair can be an important part of our appearance and identity. For some, losing their hair is one of the most distressing parts of having treatment. For others, it is not as bad as they expected.
Whatever you may be feeling, our cancer support specialists are here for you. Call us free on 0808 808 00 00 (every day, 8am to 8pm) to talk about the practical steps you can take to prepare for hair loss.
In some cases, a process called scalp cooling can prevent or reduce hair loss from certain chemotherapy drugs.
What is scalp cooling?
Scalp cooling is a method used to lower the temperature of your head during chemotherapy. This can reduce the blood flow to your scalp. A smaller amount of the chemotherapy drug then reaches the hair follicles. As a result, your hair is less likely to fall out.
There are two types of scalp cooling:
Cold gel cap: You wear a special cap that is filled with cold gel. The cap must be changed every 20 to 40 minutes to keep your scalp cool.
Refrigerated cooling system: You sit next to a machine that pumps liquid coolant through a cap on your head. This cap usually feels lighter than a gel-filled cap, but you cannot walk about freely because it is attached to the machine.
Both types of cap must be worn for some time before, during and after chemotherapy.
Who can have scalp cooling?
Your doctor or chemotherapy nurse will explain whether scalp cooling is available at your hospital and suitable for you. For example, it is not recommended if:
you have a blood cancer, such as myeloma, leukaemia or lymphoma, because there is a risk of cancer cells surviving in the scalp blood vessels
you have already had your first course of chemotherapy without scalp cooling
you need very high doses of chemotherapy or continuous chemotherapy through a pump
your liver is not working as well as it should be
you suffer from severe migraines.
How effective is scalp cooling?
Each person's experience is unique and you will not know whether scalp cooling works for you until you try it.
Some people report successful results in minimising their hair loss. Others find that even if they have scalp cooling, their hair still gets thinner or falls out. It is best to be prepared for some degree of hair loss if you decide to try scalp cooling. To improve the chances of success, it is important that the cap covers your whole scalp and fits .
Scalp cooling only protects the hair on your head. You may still lose body and facial hair.
Things to consider
Positive reasons to try scalp cooling are that it may give you a sense of control and help you feel more confident about your body image. You can always choose to stop the process if it is not right for you.
It is, however, important to be aware that scalp cooling does not work for everyone. The cap is very cold and firm fitting, and may give you a headache. But many people say that they feel more at ease after the first 15 to 20 minutes.
You may have to wear the cap for a few hours in total. This means that you will spend longer at hospital for your treatment. The chemotherapy staff can help you feel as comfortable as possible.
Top tips
Here are some tips to help you cope with scalp cooling:
Bring a blanket, hot water bottle or electric heat pad with you.
Take some extra layers to wear.
Protect your forehead with a simple headband.
Sip hot drinks to help you feel warmer.
Listen to relaxing music on your headphones to distract yourself.
To find out more about scalp cooling, you can read the information on our website or order our free booklet Coping with hair loss.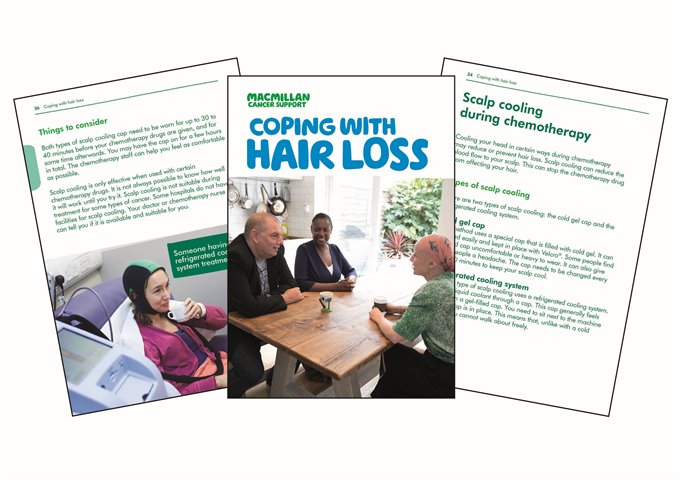 ---
To see what else Macmillan's cancer information team has been blogging about, please visit our blog home page! You can subscribe to receive our blogs by email or RSS too.
We're with you every step of the way
The Macmillan team is here to help. Our cancer support specialists can answer your questions, offer support, or simply listen if you need a chat. Call us free on 0808 808 00 00.
Comments? Feel free to add them below (you need to be logged in).