Please click on the most relevant question below to be taken to the answer. You can return to this menu by clicking "Back to top" at the bottom of each section.
What is Ask an Expert?
How do I ask a question in Ask an Expert?
How do I know who would be the best person to answer my question?
Ask an Expert is a place where you can ask our Macmillan professionals and experts questions. We have multiple teams available to help:
This is a place for medical questions. Please remember that our Macmillan nurse specialists can't access your medical records and can't advise on healthcare systems overseas.
This is the place for questions about money and cancer. This includes questions around your pension, mortgage and insurance.
Ask a Work support advisor
Our Work support advisors can answer questions about work and cancer.
Ask an information and support advisor
Our Information and Support team can offer advice and support around the emotional impacts of cancer.
Please note:
Although we take care to ensure accuracy, Macmillan Cancer Support does not accept liability for the information provided in Ask an Expert, or for third-party information such as other websites we may link to. We recommend that you consult your doctor if you are concerned about your health. Any information provided by our Experts is not a replacement for advice from your medical team, and our Experts cannot provide a second opinion to that of your medical team. All answers will be based on information that is correct at the time of posting. Your question can be read by others – so please don't post your contact details or any other information that could personally identify you. Please read our Terms and Conditions and Community Guidelines for more details.
---
How do I ask a question in Ask an Expert?
You can access the 'Ask an Expert' section from the homepage.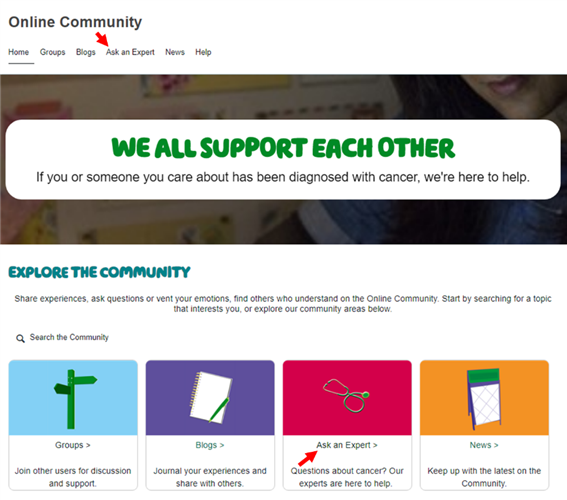 If you're using a mobile, you can access Ask an Expert by clicking on the three lines at the top right, which is called a "Burger menu."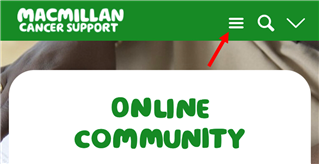 You will then be able to select "Ask an Expert" from the list: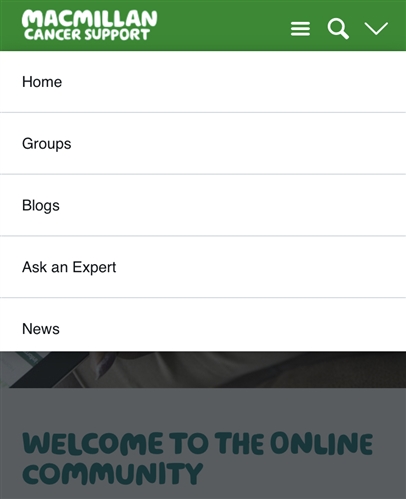 You will then need to select where you would like to ask a question. Click on the title to select a session.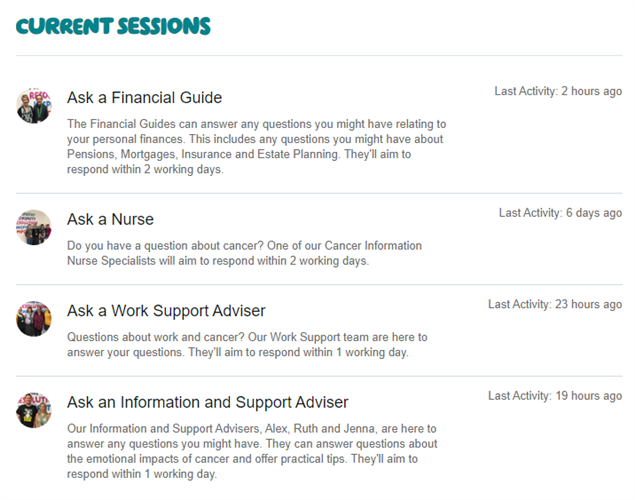 Once you have clicked on a session, you can ask a question by clicking on "new."

You can also view previously asked questions and our teams' responses by taking a look at the discussions below. Click on a question title to see the responses.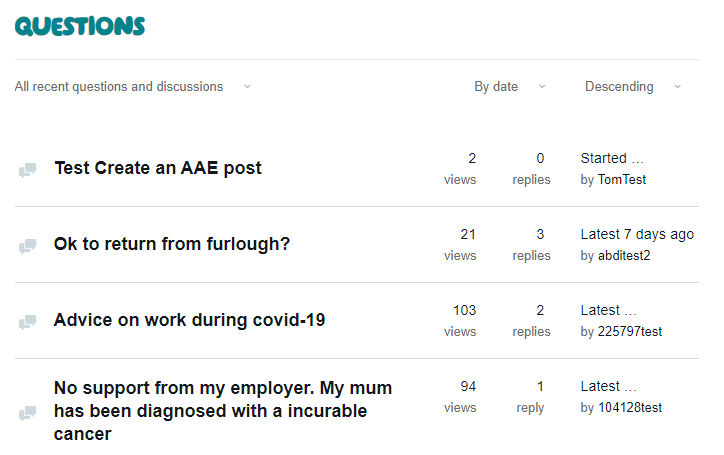 ---
How do I know who would be the best person to answer my question?
If you're not sure where to find the right answer, you might want to consider contacting the Support Line. The Support Line is here for anyone affected by cancer to help you find the best support. Our Information and Support Advisors would do their best to put you in touch with the right team to help.
You can call the Support Line on 7 days a week, 8am-8pm on 0808 808 00 00. You can also chat to the team online between 8am-8pm here. You can email the Support Line here.
---