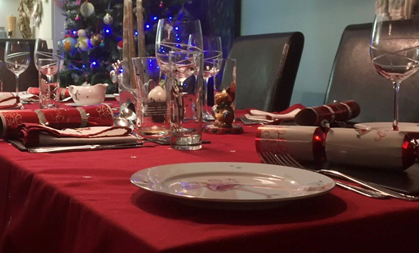 During the festive period, there can be lots of celebrations and parties, including plans to see family and friends. This can often involve eating.
When you're dealing with symptoms and side effects of cancer treatment, eating at mealtimes may look different than it did before. Everyone is different and we understand that for some people, you may feel uncomfortable about mealtimes and special occasions with loved ones.
Below there are twists on traditional favourites and some suggestions of how to still take part in the celebrations at the dinner table. If you're looking for some cooking and eating inspiration, this blog is the one for you.
"I think it's important to set some rules about the festive season. If you feel an occasion will be too much for you consider going later when people have finished eating or take some food of your own that you feel comfortable with. Don't be afraid to say no; no I can't compromise, no I feel too tired … that sort of thing. The trouble is that most people who've had a real battering from chemoradiation don't actually look that bad on the outside. It's inside they are falling apart. Don't overstretch yourself and stick to your guns."
Community member, Head and neck cancer forum
"Eating can look very different during treatment and for some can become a long term situation.
I am now a veteran of 2 Christmases coming up to my third Christmas since my treatment and for me my Christmas meal looks completely different to what it used to be. I had to come to terms with these changes and for a while it was a bit of a grieving process as things will never be the same again for me with eating. However I am so glad to have actually seen 2 Christmases which I would not have had if I had not had the treatment and am really looking forward to my third Christmas."
Community member, Head and neck cancer forum
How you eat and fuel your body may now look different to family members and those around you. Getting the right nutrition for your body means that you may no longer eat in the same way as you used to. It might mean that you're no longer able to enjoy some of the foods you'd usually eat around this time of year.
Trial and error can be a big part of discovering what foods are best for your own body. When it comes to everyday you there may be a routine you follow but when it comes to festive events and get togethers, this can be overwhelming for some.
Fatigue, side effects and body confidence can be reasons why you may not want to join in the celebrations, especially when it comes to food. Our members have shared what they do to help them join in and enjoy the festive celebrations. This can be the reality of living with cancer and we're here to help.
"I am unable to eat anything that is eaten at Christmas so knowing that I come prepared with my own food and of course a Fortisip. The meal remains the same as I eat everyday as I have got to the stage where I know exactly what I can manage.
My family all know that I will bring my own food whether we are out eating or at home. However they often feel a bit guilty and try to find something for me to eat. I tell them not to worry that I have it under control and to just cook for the rest of the family.
I still enjoy what I eat but it is just very different to what everyone else eats as I can only manage pureed foods."
Community member, Head and neck cancer forum
"My husbands condition should be very healthy sadly my needs are the complete opposite as my stoma dictates what I can have, this Christmas my table will have five.
One vegan One high protein meat eater, Two normal eat anything and then Whoopi my Stoma…"
Community member, Ileostomy, colostomy and stoma support forum
Recipes and meal ideas
Alongside the suggestions below, don't forget, there's the 'Tips, ideas and recipes' section of the Community news blog, here you'll find additional information and guidance about eating. There's the 'Dining with an ostomate series' which includes some suggested recipes from Debbie and the Cancer and food blog which has some tips on finding some help and guidance.
You can see more suggestions which have been shared in the discussion threads which are linked below. Please do join in the conversations if you have anything you'd like to share with other members.
Get involved and share a picture of what you will be eating during your celebrations this holiday season in the comment box below or here in our Winter picture festival. Whether your cooking, or not cooking in some cases, we'd love to see what's on your plate and what your meal looks like.

If you need a reminder of how to upload a picture, there's some step by step guidance in our Help pages.