Hello everyone,
I'm Tom from the Community team, I hope you don't mind me posting here today.
I'm here to let you know that we will be making some changes to the group next week. Following feedback received from the Community, we are developing the group to have three sections. It will look like this:

You'll all be able to start a discussion in the same way, but there will be an option of three areas in which to post. Replies will work in exactly the same way as they do now.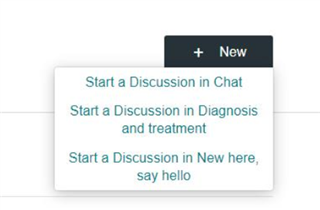 Please don't worry too much if you're ever not sure which section best fits your post, the new structure is not intended to restrict conversations in any way. For example, you are still very welcome to chat in the diagnosis and treatment section if the discussion results in a longer conversation.
We expect to see benefits to new members in providing a dedicated space for them to introduce themselves. Existing members should be able to find discussions around diagnosis and treatment more easily, whilst enjoying a space to continue longer chats and discuss everyday life as well as give and get support.
Underneath the new sections, you'll still be able to see 'all discussions' from the group in a combined feed, just like you do now.
I hope you will like the new structure and please do let us know your thoughts. We're constantly working on the user experience on the site, as making the Community the best place for peer-to-peer cancer support is at the heart of everything we do. We are continually listening to feedback and making changes to the site which will improve the experience for all our members and make sure everyone can access the right support for them, when they need it.
If you have any questions or comments about the new group structure, we would love to hear from you by email at community@macmillan.org.uk or you can ask for help in the Technical Help group here.
Kindest Regards,

Tom
Macmillan Community Team