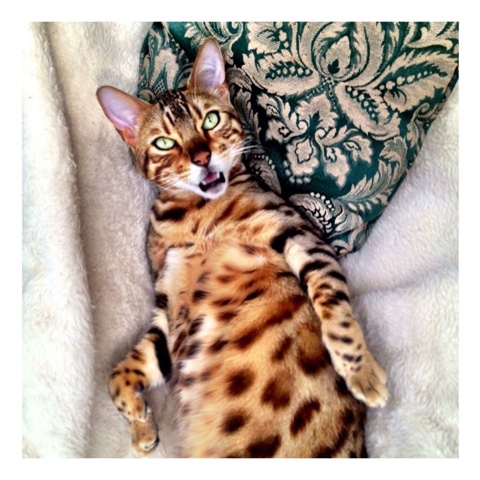 This is Hugo the Bengal, he was rescued from a caged life that had made him unable to climb stairs or interact with others. We sat and watched him hiding away behind the breeders TV for nearly two hours, I had six weeks off school work and thought I could help him. We bought him,I read cat psych stuff and found him a safe space in our living room behind the sofa. He hid, no one saw him and I would go to him at night and just sit when he felt brave he would approach me and sniff. Poor little thing. After two weeks we still hadn't named him when he shot out behind the sofa and I saw his markings. "Hugo". Hugo the Boss" I said, But he'll never be the boss living behind the sofa but he does look like a designer cat".
We laughed and that was that.
Slowly within the six weeks he gained confidence and played like a small kitten should though he was seven months and powerful. He loved chase and hide and seek.
I found his character more dog/ cat than cat. He sniffed everything and retrieved. had no fear of water but still was highly sensitive to new experiences and things. He talked to us a lot which apparently that breed does and sometimes I am sure he actually understood what I said.
Fast forward six years I had a complete melt down retreating into myself not working and on anti depressants. He was never a cuddly cat just didn't want to know hugs and cuddle so I respected that plus he would let me know if I was pushing it.
He sat beside me everyday, every minute I was never left to wallow. Not on my lap but close next to me. His coat is like the most beautiful golden thick velvet that sparkles in the light and I smoothed it constantly, he allowed me to
Ever since then, My hubby had a heart condition found.
As soon as it was treated he found his own space normally fire in winter or window in the summer.
Husband knee replacement, Hugo was there.
Me Cancer
Hubby Liver
Hubby Parkinson's.
It's becoming that if he decides to cuddle we are going to be diagnosed with something.
We are so lucky we decided to bring that pathetic little fluffy home. He's a very special and a very loved member of our family
Definitely Hugo the Boss