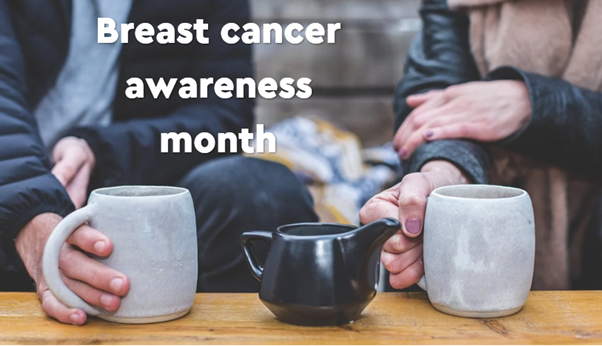 October is Breast cancer awareness month around the UK and as part of this, we'd like to feature what's discussed in our Breast cancer forums here on the Community.
The different Breast cancer forums have around 11,725 members who offer each other support every day, including all hours of the night. If you've visited the Breast cancer forums you will have seen there's lots of discussions about symptoms, treatment options and side effects. There's also lots of friendly and reassuring support so stay and read the rest of the blog if you're thinking of joining, or if you're looking for some support.
"It's always helpful just to know you're not alone and to talk about it so thank you for replying."
Community member, BRACA positive forum
"I think being able to talk to someone that has been through the same thing will really help. Family and friends have been supportive, but they don't always quite understand."
Community member, Breast cancer for under-50's forum
Who can get breast cancer?
Primary Breast cancer refers to cancer that has started in the breast, secondary breast cancer is when cancer cells have spread to other parts of the body. There's more detailed information on the main Macmillan website if you're looking for guidance on breast cancer screening, risk factors, symptoms and possible treatment options.
Men have a small amount of breast tissue behind their nipples, where breast cancer can develop and around 390 men in the UK being diagnosed with breast cancer each year.
If you have a chest, make sure you're observant and check yourself for any changes. For more guidance around the symptoms, causes and diagnosis of Breast cancer in men, please visit Macmillan's information on the main website. There's lots of helpful information in the 'Understanding Breast cancer in Men' booklet. If you're looking for some guidance, this can be a helpful place to start.
It can also be helpful to reach out and post in one of our Breast cancer forums like these members have done below. It can feel isolating when living with cancer but here on the Community there are people who can understand how you may be feeling.
"I have used similar sites over the years and found the feeling of not being alone in my agony, at any hour, any day, really helpful. So keep posting, I'm sure you will find others you can assist as well as be assisted."
Community member, Breast cancer forum
"You will find statistics for male survival is about the same as women, however, men tend to get treatment at a later stage as they ignore symptoms. I have had three men following me in my treatments and a male friend is currently being investigated because of my diagnosis."
Community member, Breast cancer forum
The power of peer support and a shared experience
Members of the Breast cancer forum come together to support each other every day during all hours of the night. When coping with a breast cancer diagnosis, treatment side effects and the worry of what you're going through, you may find that you're finding it difficult to sleep and get some rest.
If you're having a sleepless night, there's usually others in the AWAKE discussion thread who will be there to keep you company during the night.

"I'm a night owl and try to look out for new posters reaching out late at night when the worry gremlins appear. I always try to link them to this thread as I know they will be welcomed and supported. It's not only answers & facts we need about treatment it's just to be with others who have been or are a similar journey so understand your feelings."
Community member, Awake thread, Breast cancer forum

You're not alone going through your cancer treatment even if you have to attend the appointments by yourself just now, as there's the monthly chemotherapy and radiotherapy discussion threads where members share their treatment experiences .Click on the following links to see this month's discussion threads.
There's also spaces for you to talk about how your feeling and share coping strategies with one another.
"It's perfectly normal not to have absorbed it all. It can be daunting at times particularly when you are first diagnosed as your doctor gives you so much information it can take time for it to sink in. It may or may not hit you down the line but if it does don't be afraid to reach out. You'll get plenty of support on here."
Community member, 'Going through the motions' discussion thread, Breast cancer forum
"Thank you so much for your time and for explaining everything. It really does feel like I'm learning a whole new language doesn't it."
Community member, Breast cancer forum
"I need the information so that I am armed to the hilt!!!! Half the problem is that we are learning as we go and I suppose that can't be helped. So as I said be completely honest and tell them everything. Sometimes medical staff forget the person and only see the problem. To them it is often 'normal' day to day stuff and they know the outcomes, side effects and so on. That doesn't mean they understand you or me or our families. Covid complicates the matter. Not having anyone beside you to listen to what they say has been really hard, as have telephone consultations. Ask them to use a phone number that you can put on loud speaker and tell them that you have someone else there with you who may want to ask questions. They don't mind."
Community member, Triple negative breast cancer forum
Whilst it may be one of the most common cancers in the UK, there's plenty of positive stories coming from our Breast cancer forums. Positive Secondary breast cancer stories discussion thread was created by a Community member to help lift their mood:
"I found that I was getting sucked into the bad news stories and it was making me feel very low. Anyway, as an alternative, I thought I would start a thread for positive secondary BC stories as I'm pretty sure we would all welcome them! Please feel free to add your own so that we can build a library to remind us of positivity when we are feeling that our bodies are against us!"
You can click on the link above to be taken to the discussion where you can read and share your own stories and positivity.
Have you seen these members Breast cancer stories?
Don't forget, there's these guest bloggers who are sharing parts of their Breast cancer experience. Click on the links below to read them.
Did you know we have these different types of breast cancer groups here on the Community?
Not everyone's breast cancer experience is the same which is why there's different forums available for you to join:
The above groups are there to support you for as long as you need them, why not join and reply to someone who's already posted, or start a discussion if you have a question about your situation.