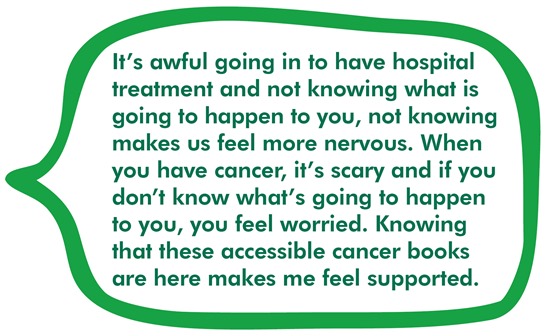 Catherine Carter – Trainer with learning disabilities at CHANGE
There are around 985,000 people in England living with learning disabilities.1 That's 2% of the general population. And yet, it can sometimes be really difficult for this audience to find accessible health information.
It's hard enough being told you have cancer and trying to understand all the treatment options and possible implications. For people with learning disabilities, the struggle to understand is even more difficult, especially when the information provided is complex.
It's vital that people with learning disabilities have access to the information that's right for them, so they can understand their condition and what's happening.
At Macmillan, we're trying to reach more people with learning disabilities through our Easy Read patient information. This is part of our vision to reach everyone affected by cancer by 2030.
Easy Read booklets about cancer
We distribute a range of Easy Read booklets about cancer for people with learning disabilities. You can order these for free from our be.Macmillan website. There are three different booklets:
Symptoms, screening and staying healthy
Diagnosis and treatment
Palliative care, end of life care and bereavement

And there are two different versions of each booklet – one for the person with learning disabilities, and one for the carer of someone with learning disabilities.
These award-winning booklets are produced by CHANGE, a national human rights organisation led by disabled people. It produces Easy Read information for people with learning disabilities using simple language and images.
Easy Read information is useful for other audiences too – people with low literacy levels, who speak English as a second language, or who have sight or hearing problems often also benefit from Easy Read.
Other accessible information from Macmillan
We're always trying to make our range of information as accessible as possible for everyone affected by cancer. That's why we also produce other formats and languages.
Audiobooks
We have audiobooks about different cancer types, tests and treatments. You can order these for free on our be.Macmillan website.
Translated information
We've produced translations of some of our most commonly requested information in Bengali, Gujarati, Hindi, Punjabi, Urdu, Chinese, Polish, Russian and Welsh.
British Sign Language cancer information videos
We've produced some of our videos in British Sign Language.
Braille and large print
We can produce any of our cancer information in Braille or large print on demand. Just email us at cancerinformationteam@macmillan.org.uk to make a request.
We want your feedback
We're keen to know what you think about our accessible information. Please email us at cancerinformationteam@macmillan.org.uk if you have any ideas about how we can improve it to reach even more people affected by cancer.
Ideas for blog posts? Let us know.
Comments? Feel free to add them below (you need to be logged in). If you can't see the comment box, click on this blog's title at the top.
Keep in touch Follow Macmillan's cancer information team on Twitter @mac_cancerinfo
Sources
[1] British Institute for Learning difficulties. Learning difficulties http://www.bild.org.uk/information/factsheets/