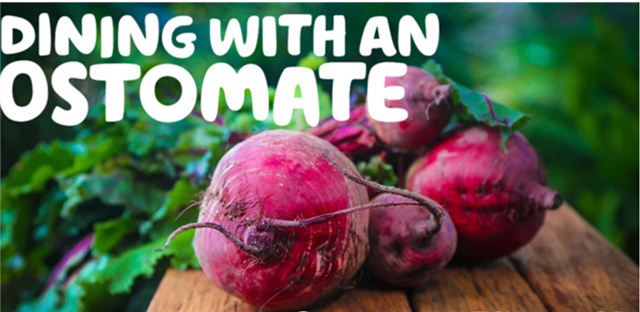 We are really pleased to be back this autumn with another instalment of our 'Dining with an Ostomate' series. Today we are sharing Debbie's recipe for golden goats' cheese, beetroot and squash salad. Debbie is our wonderful 'chef to Ostomates' and all of her recipes are, of course, designed with Ostomates in mind. In case you've missed any of her recipes to date, you can find them all in our Ileostomy, colostomy and stoma support group here. So why not put an apron on and get cooking!
I often make this when I have left over squash, and halve the recipe to make a more substantial main course for two people. If you have an ileostomy, omit the pumpkin seeds. Beetroot may change the colour of your output so don't be alarmed! Omit the salad leaves if you can't digest them easily.
Golden Goats Cheese, Beetroot and Squash Salad
Serves 6 as a starter, 2/ 3 as main course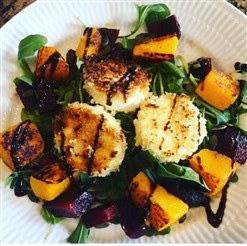 Ingredients:
1 x 300g roll of firm goat's cheese
Plain flour, for coating
1 large egg
50g panko breadcrumbs
25g pumpkin seeds (optional)
Half tsp sea salt
Half butternut squash, peeled, deseeded, & cut into cubes (about 300g prepared weight)
3 tbsp olive oil
1 x bag mixed salad leaves
250g cooked beetroot, diced
Ready-made Balsamic glaze, to serve
Method:
Put the goat's cheese into the freezer for 15 minutes to firm up. Next, remove any thick rind from each end of the roll and cut the cheese into 6 slices. Add the flour to a plate and season. Beat the egg. Sprinkle the breadcrumbs onto another plate. Coat each disc of cheese with flour, then dip it into the egg then the breadcrumbs and set aside.
Place a non-stick frying pan on a medium heat, add the pumpkin seeds and sea salt then dry fry for 3 – 4 minutes until the seeds are roasted and are starting to pop. Set aside.


Cook the squash cubes in boiling salted water for about 5 minutes until just tender, then drain.


Add 1tbsp of the oil to a frying pan and fry the diced squash for about 5 minutes, stirring frequently until just golden on all sides. Season and set aside.


Divide the salad leaves between the plates, scatter the beetroot and squash around the edges and drizzle over the balsamic glaze.


Add the goat's cheese over a high heat for 2 -3 minutes until golden and crisp. Arrange the goat's cheese on top of the salad leaves on each plate and sprinkle with the pumpkin seeds.
Missed out on any of Debbie's earlier recipes? Find them all here. Thoughts on food and cancer, or perhaps a recipe you wish to share? Go ahead and do so using the comments section below. You might also like to join our Ileostomy, colostomy and stoma support group to talk to other Ostomates.