After the 'Look out for our improvements' blog we posted last week, we wanted to give you some more information about our upcoming improvements and all the details you need to know about when these new features are going live.
Once the improvements go live later this week, the following information in this blog should help show you how to make the most of some of the new exciting functions we are introducing. Don't worry, we'll also be updating our Help pages with some step by step guidance should you need a helping hand.
When will these new improvements go live on the site?
We are hoping that our improvements will be finished and ready for our members to use by 10pm on Thursday 10th of March 2022. In order for us to bring you these improvements however, there will be some scheduled downtime on Thursday 10th March from 1pm until 10pm. This means you will not be able to view the Community during these hours. We hope to have the downtime kept the a minimum and will let you know if there are any changes to this downtime.
What support is available when the Community is down?
The teams on the Macmillan Support Line are there to help if you're in need of some additional support whilst there is some downtime on the Community. There are specialist teams on hand to provide practical, emotional, and financial support, 7 days a week from 8am to 8pm.
To get in touch you can call freephone on 0808 808 00 00 , send an email or use live webchat during the opening hours.


What will you see once the Online Community is live again
Once our improvements go live, you will be able to see a our brand new Online Community homepages. There are now two versions of the Community homepage, one that you see when you are simply viewing the site when you are logged out, and one that you see when you are logged into your Community account. The image below is what the site will look like before you log in, or before you have signed up to the Community.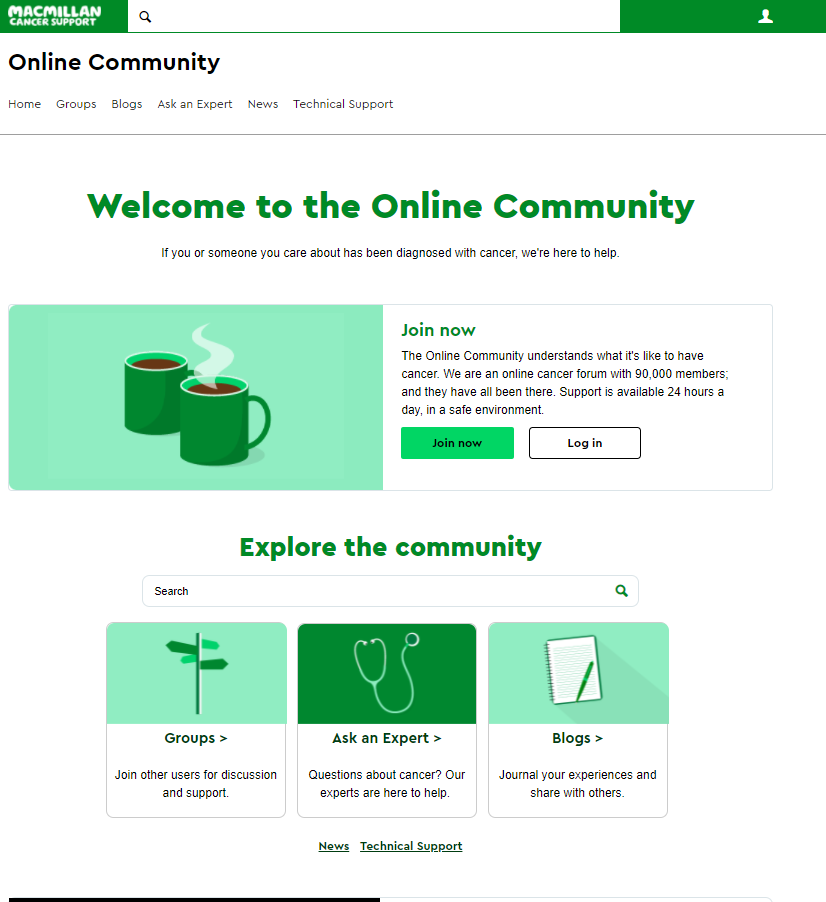 Take a look at this short video of the logged out homepage when using a mobile device:
One of the new features of our logged in Community homepage is the new 'Your Community' section. We've introduced this feature to make it easier for you to find your groups and notifications all from the main homepage.
The 'Your Community' section will list all the groups you've joined, and your most recent notifications. Though you'll still receive notifications on the green task bar at the top of the page, or in the mobile menu, we've also added your latest notifications to the homepage to make it easier to see all the latest news from your account. This is so you get a customised experience each time you log in.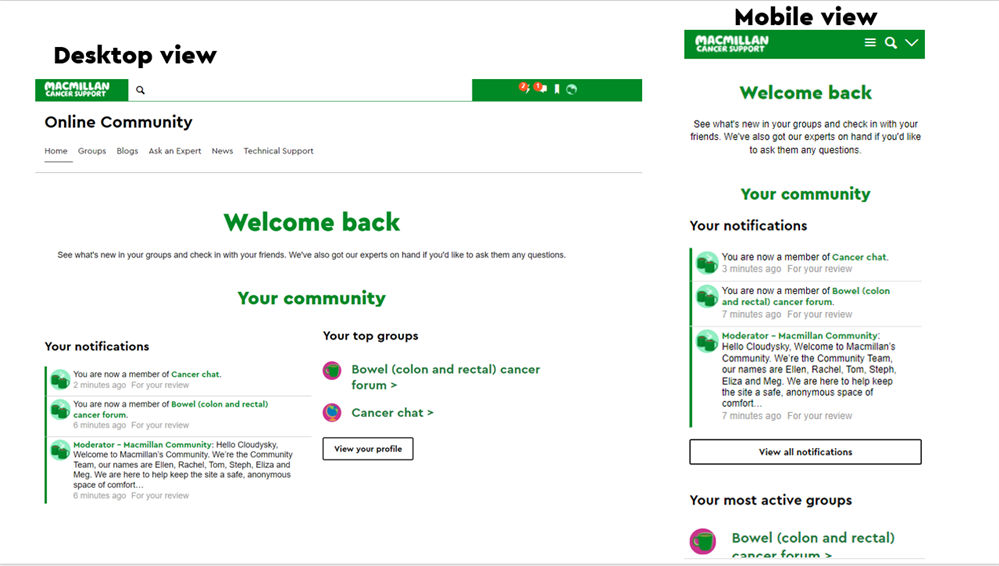 Take a look at this short video of the logged in homepage when using a mobile device:


Another change you will see, is that the 'Recent activity' newsfeed has also been updated. You'll now see options to view recent posts from all areas of the Community, and your Community friends. Simply tab through these sections to see different newsfeeds to suit what you are looking for.
You'll also be able to clearly identify the most recent post in a thread as it will always be surrounded by a green box and have a black lightning bolt in the top left corner.
Reactions

Say goodbye to the upvote/downvote options under each post in the Community groups, blogs and questions asked in Ask an Expert. This is being changed to our new 'reactions' feature.

Reactions are an opportunity to show your support in a different way. Underneath each post you will see the 'React' button next to the reply button. When you click 'React' you will be given these icons to chose from:

Simply click on the icon you want to use and you will have 'Reacted' to the post. If you've selected an icon by mistake, you can remove the icon by clicking the 'Remove' button. The 'React' button changes to 'Remove' once you have reacted to a post.
By clicking the number next to the reaction icons, you will be able to see who and how someone has reacted to your post.
Watch this short video reacting to posts on a mobile device:


Blogs are a different way of getting and giving support. Many members use blogs as a way of diarising their personal experiences so others can follow them on their journey. You only need to set up a blog once, then you can add as many posts as you wish to.
The process of creating your own personal blog has been made easier. You'll now see a bigger 'Create a blog' button on the blogs page.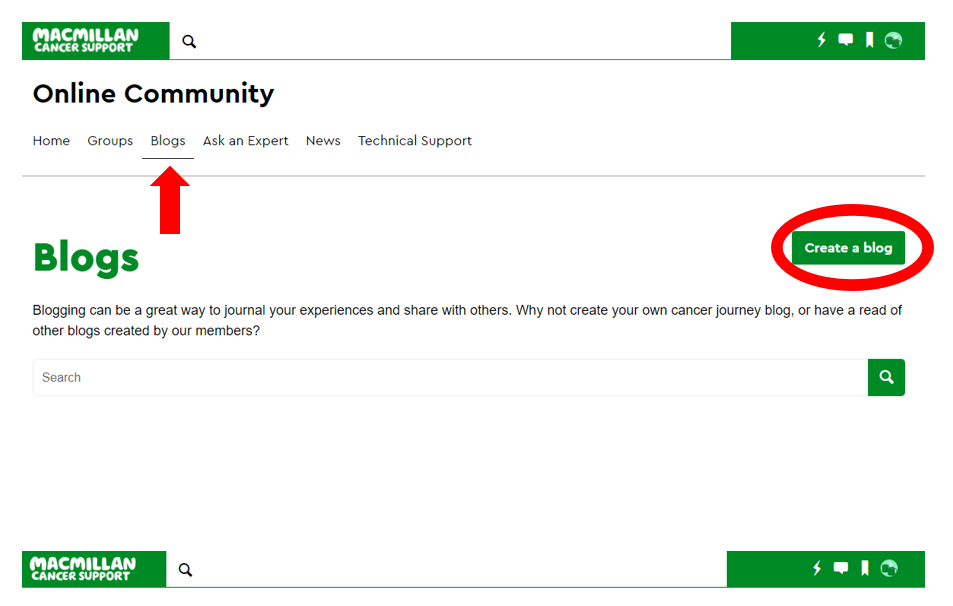 Once you have created your blog you will then see a 'create a post' button.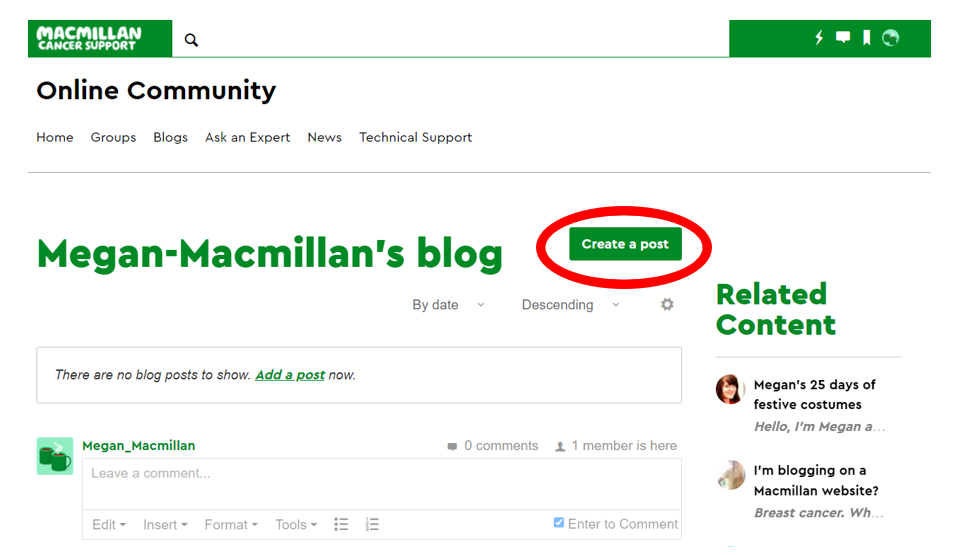 Watch a short clip of creating a blog on a mobile device:



To find your blog you'll be able to use the search bar on the Cancer blogs homepage. All you need to do is type the title of your blog and click the magnifying glass button. The search bar will help you find other blogs if you search some key words, e.g. 'Breast cancer'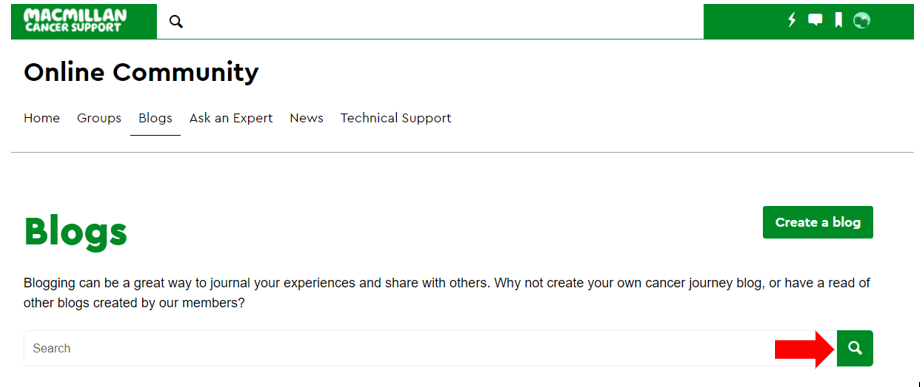 We hope you enjoy using the improvements and the information above helps explain how to use them. Why not start your own blog and begin reacting to posts on the site.
If you have any questions or need some help using the Community, please don't hesitate to contact the Online Community team by emailing community@macmillan.org.uk or sending a private message to the Moderator account here on the site.