Paper and pen. Lick and stick stamps. Brown paper and string. It's World Post Day!

Now, I don't know about you, but something about this makes me very happy. I absolutely love sending and receiving mail. I still write frequently to a few good friends. With some, we exchange letters more often than we see each other.

Don't get me wrong - having a conversation in person, on the phone or via text or messages is great. With modern technology, we are able to instantly see people we care about, speak from around the world, catch up in an instant, and share stories and photos easily. But don't underestimate the joyous sound of a letter or parcel plopping through the post box.

If you know someone with cancer, sending post can be a really influential way of saying, 'Hey, I care about you'. Especially for people who live in remote areas, alone, or far from family. They may be feeling isolated. Or, what about sending a simple care package to a friend in hospital or recovering at home? Every kind word or thoughtful gift popped in the post has the ability to brighten someone's day.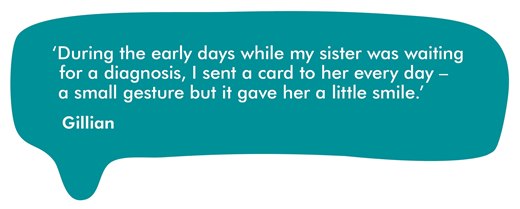 Dealing with difficult emotions
For me, post is about these little notes and letters that bring a smile to a face. But it's also a tool for dealing with your emotions. If you have been diagnosed with cancer or you know someone who has, there are a whole range of emotions you might feel. These are valid, and natural. But sometimes they are also hard to talk about. You might want to try writing a letter to a friend or family member to explain how you're feeling.

The power of letter writing doesn't stop with the mail we send, either. In our information, we talk about how writing down how you feel can be really beneficial. I have sometimes written letters I've never sent. Some I intended to send but decided not to, and others I never intended to send. I find it helps me to get what I'm thinking down on paper. You can write to whoever or whatever you want. Write to yourself. Write to a friend or loved one. Write to the cancer. Write to someone who isn't here anymore. Do whatever you feel is right. You don't have to post a letter for it to do some good.

For example, sometimes people are angry with their situation but take this out on people they are close to. When we're angry like this, writing a letter can help us relieve that tension without having an argument. It lets us vent our emotions, but then review what we wrote and think about it more calmly. It gives us time to reflect on what we're feeling before we say something we don't mean, and helps us feel more in control of our feelings.
Practical help
Post can also be a very helpful tool in the modern world. For people with mobility problems as a result of cancer or treatment, getting groceries delivered can be a real help. For people who want cancer information but find reading paper easier than a screen, our information booklets can be ordered online and delivered to their door. People with cancer-related fatigue who are looking for simpler meals or frozen dishes may find that services that deliver can be a real help.

The postal service has been serving us in Britain since 1784. If you can, I hope you carve out a little bit of time today to celebrate the power of the post. Write a letter. Send some love.
Sincerely,
Liza
__________________________________________________________________________________________________________
To see what else Macmillan's cancer information team has been blogging about, please visit our blog home page! You can subscribe to receive our blogs by email or RSS too.
We're with you every step of the way
The Macmillan team is here to help. Our cancer support specialists can answer your questions, offer support, or simply listen if you need a chat. Call us free on 0808 808 00 00.
Comments? Feel free to add them below (you need to be logged in).