Last Saturday 12th October was World Hospice and Palliative Care Day - a chance to celebrate and support hospice and palliative care around the world.

Our information development nurse, Rebecca, has written this blog using her own experiences working as a palliative care nurse to help answer some common questions about what palliative care is.
When I worked as a palliative care nurse, it was a privilege to be able to support someone in their own home, along with their district nurse and GP. Although I visited people in their homes, I was also part of the team at the local hospice, which included doctors, nurses, occupational therapists (OT), physiotherapists, social workers, counsellors and chaplains.

Sometimes I could ask other members of the hospice team to visit someone where they lived. But sometimes a short stay in the hospice would be the best thing for them at that time. It could mean that a difficult symptom could get managed more quickly, so they could cope better when they got back home. Or it could mean that they could get lots of different things dealt with at once, because of the range of staff available.
What is palliative care?
'Palliative care' describes care or treatment that helps to reduce symptoms. The focus is on improving someone's quality of life, so in palliative care the whole person is considered.
This includes:
managing symptoms such as pain, breathlessness or sickness
practical support such as equipment or social care
emotional support for you, your partner, family or friends.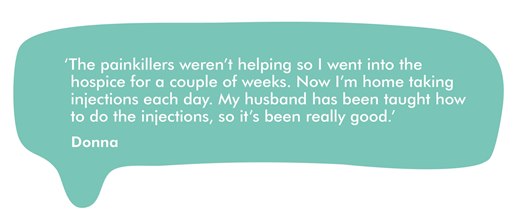 Who is palliative care for?
Palliative care includes end of life care, but it is much more than that. You can be at any stage of your illness to have palliative care. But most commonly it is given to people whose illness is not going to get better.
Where can palliative care be given?
Palliative care can be given anywhere – in the hospital, at home, in a clinic, or in a hospice.
Hospices are places that specialise in palliative care. They can be especially helpful if you have symptoms that are difficult to get under control. Some hospices also offer short-term respite care, which can help to give someone caring for you a break. And some people want to be looked after in a hospice at the end of their life.
If we were considering whether someone should be cared for in a hospice or not, I would often suggest that they, or their loved ones, would come and look round. It helped to ease people's worries about going to a strange place and gave them the chance to meet some of the staff. There was also a day centre at the hospice that had lots of support groups and activities going on. Some people I visited at home would take part in these too.
Who might give palliative care?
Palliative care may be given by any health professional. Some health professionals specialise in palliative care. Most hospitals will have a palliative care team and many areas have palliative care nurses that can visit you at home.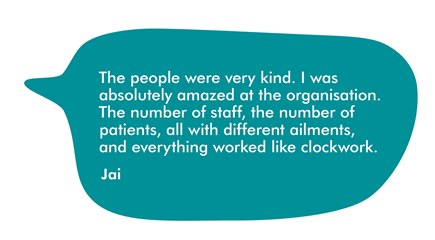 Further support
If you think you may benefit from seeing a specialist in palliative care, talk to your doctor or nurse. You can find out more about your local hospice from your GP, district nurse or palliative care nurse.
Hospice UK also has useful information about hospices and where they are located across the UK.
__________________________________________________________________________________________________________
To see what else Macmillan's cancer information team has been blogging about, please visit our blog home page! You can subscribe to receive our blogs by email or RSS too.
We're with you every step of the way
The Macmillan team is here to help. Our cancer support specialists can answer your questions, offer support, or simply listen if you need a chat. Call us free on 0808 808 00 00.
Comments? Feel free to add them below (you need to be logged in).