International Stress Awareness Week takes place from 4 to 8 November 2019. The aim is to raise awareness of how stress can affect everyday life and practical ways of coping.
To mark International Stress Awareness Week, Content Developer Azmina explains the signs of stress and some different things that can help you to cope.
What are the signs of stress?
There is no medical definition of stress, but you may feel 'stressed' if you believe that you are under too much pressure. This may happen when you feel you are struggling to cope with a difficult event or situation. Living with cancer involves dealing with situations that may frighten and challenge you.
When you are stressed, your body releases hormones to help you deal with a threat or escape from danger. This is called the 'fight or flight' response. You may have symptoms such as a headache, tense muscles, sweating or an upset tummy. If you are often under stress, you may find it hard to sleep or eat well.
The stress of living with cancer can also affect how you feel, think and behave. You may become irritable, have racing thoughts or struggle to concentrate.
Stress is very common. It is not an illness but, if you are stressed over a long period, you are more vulnerable to health issues like anxiety and depression. It is important to recognise the signs of stress early to prevent the problem from getting worse. There are things you can do to try and reduce stress. The following are some tips for managing stress that you may find helpful.

Take control
Learning about the cancer and its treatment can make you feel more in control and involved in your care. But it is up to you how much information you would like at any time.
You can order Macmillan's free booklets about all aspects of living with cancer at be.macmillan.org.uk

Make time to relax
It is a good idea to set aside some regular time to relax and do enjoyable activities. For example, you could have a bubble bath, listen to music or spend time with your pets. This can calm your body and mind, and help you to sleep better.

Practise relaxation techniques
You can learn and practise relaxation techniques, which combine breathing more slowly with relaxing your muscles. There is a simple exercise on our website. We can also send you a free CD called Relax and breathe.

Try mindfulness exercises
Mindfulness means paying attention to what is happening in the present moment. If you are overwhelmed by upsetting thoughts or feelings, you can use your senses to bring yourself back to the 'here and now'.
For example, you could splash water on your face, dry yourself with a soft towel and use words in your mind to describe the sensations. Our basic senses (sight, hearing, smell, taste and touch) remind us that we are here and safe in this moment.
There is a free website with guided mindfulness exercises for people affected by cancer at thisiskara.com
Keep active
Exercise encourages your brain to produce chemicals called endorphins, which boost your mood. Try to build up your activity levels gradually. You could start by going for short walks in the fresh air or doing some light gardening.
There may be a local cancer rehabilitation programme, where you can exercise with others who understand what you are going through. Visit macmillan.org.uk/in-your-area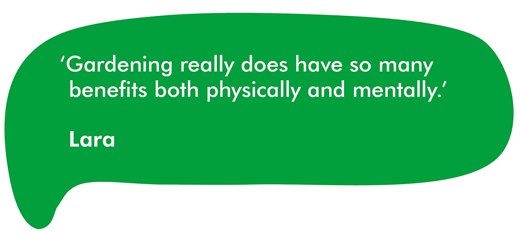 Follow a balanced diet
When you feel stressed, you may be tempted to skip meals, eat comfort food or drink more alcohol than usual. But eating regular, healthy meals and not drinking more than 14 units of alcohol a week can have a big impact on your mood. Macmillan's free Recipes for people affected by cancer booklet contains nutritious meal ideas that can improve your well-being.

Further support
If you need more help in dealing with stress, call our cancer support specialists free on 0808 808 00 00 (7 days a week, 8am to 8pm). We can also send you our free booklet, How are you feeling? The emotional effects of cancer.
You can also use our Directory of Information Materials for People Affected by Cancer. It has details of over 1,900 booklets, leaflets, books and audiovisual materials for people affected by cancer. It is regularly updated and you can use it to search for our resources and those from other organisations.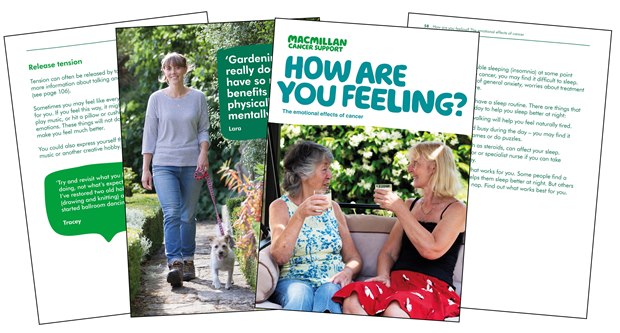 ________________________________________________________________________________________________________
To see what else Macmillan's cancer information team has been blogging about, please visit our blog home page! You can subscribe to receive our blogs by email or RSS too.
Whatever cancer throws your way, we're right there with you.
The Macmillan team is here to help. Our cancer support specialists can answer your questions, offer support, or simply listen if you need a chat. Call us free on 0808 808 00 00.
Comments? Feel free to add them below (you need to be logged in).