Stress is something many of us deal with on a daily basis, but in the current times, feelings of stress may be higher than usual. With all of the change and uncertainty at the moment it is natural to feel overwhelmed, or more stressed than usual. April is Stress Awareness Month, and in this blog, Editorial Assistant Molly suggests some ways to cope with stress at this time.
Try to stick to a daily routine
At the moment, most of us have had a change of routine. Whether that is being in home isolation, working from home, or taking on childcare, your usual patterns may have changed. While it may be tempting to hit the 'snooze' button on your alarm, it is important to keep to a routine. Creating daily habits, such as when you eat meals, or waking up and going to bed at the usual time, are a really good way to adjust to the changes around you that you may not have control over.
Stay connected
Talking to friends and family is a good way to reduce stress. Even if you are not with your loved ones, try to keep in touch. Having a phone or video call is a great way to have a chat - you could even have a coffee together, or do some virtual quizzes.
If you do start to feel overwhelmed, it can help to talk about it to someone. If you feel comfortable, you could talk to a friend or family member. Or, if you would prefer to talk to someone else, there are many options. You can share your emotions in our Online Community, and find support from others going through similar experiences. You can also call the Macmillan Support Line on 0808 808 00 00.
Do something you enjoy
Try setting aside some time, no matter how small, to do something you enjoy. It could be doing a hobby, reading a book, or watching some TV. Whatever makes you happy. Taking some time to relax is important for keeping stress levels low.
Try to stay active
Exercise is good for you, not just physically, but mentally too. It does not have to be much, but getting your body moving will help you feel less stressed and more energised. If you have low energy levels, you could go for a short walk, or do some gardening. Doing the right level of exercise for you is important, so do not feel pressure to do too much. We have more information about keeping active.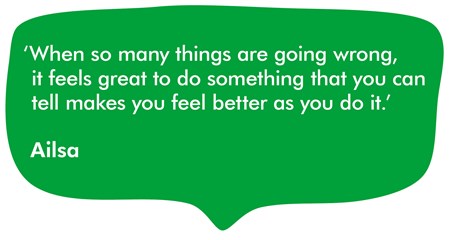 And finally … Be kind to yourself
It is very easy to get caught up in staying productive when we feel that we should be doing something at all times. If you find yourself constantly checking the news, or social media, turn your phone off. When you are feeling stressed, it is okay to give yourself a break, and allow yourself to switch off, even just for a moment. Take a step outside, make a cup of tea, or do some gentle stretches.
You know what is right for you, so try to set yourself reasonable and achievable goals, and do not put yourself under too much pressure to be doing as much as you possibly can in the lockdown.
__________________________________________________________________________________________________________
To see what else Macmillan's cancer information team has been blogging about, please visit our blog home page! You can subscribe to receive our blogs by email or RSS too.
We're with you every step of the way
The Macmillan team is here to help. Our cancer support specialists can answer your questions, offer support, or simply listen if you need a chat. Call us free on 0808 808 00 00.
Comments? Feel free to add them below (you need to be logged in).