When you finish cancer treatment, it can be hard to move on with your life and let go of the fear that your cancer could return. For some people, this is a fear that never goes away. You might find that life after cancer has brought uncertainty or new challenges that you didn't feel prepared for. However, this doesn't mean you can't learn to cope with feeling worried.
Here are some tips for coping if you're worried about your cancer coming back.
Recognise your emotions
Rather than ignoring your fears, it can help to know what causes you to feel anxious. Some people find that certain situations make them worry without knowing exactly why. Sometimes it's not about why you are feeling worried or anxious, but about learning to deal with these reactions. It can help to share your feelings with someone else when certain situations make you uncomfortable instead of keeping them to yourself. This can help put things into perspective and make you feel more supported.
Do not worry alone
For a lot of people, life after cancer is still difficult to talk about. You might find that you are still emotionally affected by cancer, especially if you are worried about it coming back. It can be hard to stay positive and focus on your recovery if you are living with uncertainty, but it can help to talk to others about some of the worries you have.
Sharing your concerns with someone you know well, for example a partner, family member or friend, can make you feel supported. Or, if you find it easier to talk to someone you don't know as well, you can talk to your cancer doctor, GP or specialist nurse.
You might also find support in Macmillan's Online Community or other self-help groups where you can share your experiences and concerns with other people affected by cancer. If you find it hard to speak to people close to you, you also have the option to call the Macmillan Support Line on 0808 808 00 00. You can speak to one of our cancer support specialists from Monday to Friday, 9am to 5pm.
Challenge negative thinking
Negative thoughts are not uncommon when you are coping with cancer but be careful that this doesn't become your normal way of thinking. Worrying about cancer coming back can shake your confidence and make you forget the positive things happening around you. In order to change the way you think, it can help to be more aware of your thoughts.
Ask yourself a few challenging questions, like:
Am I jumping to conclusions because I'm feeling anxious?
Am I right in thinking this - is there any proof?
Am I seeing the negatives and forgetting about the positives?
Could I make myself feel less worried by talking to someone about my feelings?
What would I say to a friend who had the same thoughts as I have?
Reduce stress and keep a healthy lifestyle
Improving your general health can make you feel more in control of what is happening to you. You might find that when your emotions are building up, focusing on your well-being can make it easier to reduce stress and also release some of your tension.
Looking after your health is important and keeping active can even distract you from some of your worries. Make some positive changes in your life by eating healthily, increasing your physical activity, getting enough sleep and following sensible drinking guidelines. Try to pick up a few hobbies that you enjoy, not only to make yourself feel better, but to give yourself something to look forward to in the week.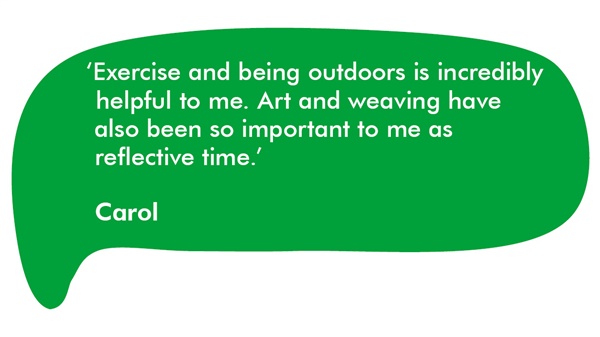 Be well informed
If you worry about your cancer coming back, it is important that you avoid misinformation that could increase your stress levels. There is a lot of misleading information on the internet that could make you feel anxious unnecessarily. To have your questions and concerns answered and make you feel more at ease, make sure that the information you find is reliable and up to date. Your cancer doctor or specialist nurse can help you with this.
Further information
You can find more information about how to cope with your worries in our booklet Worrying about cancer coming back, which you can order for free. You may also find our booklets Your feelings after cancer treatment and Talking about cancer helpful.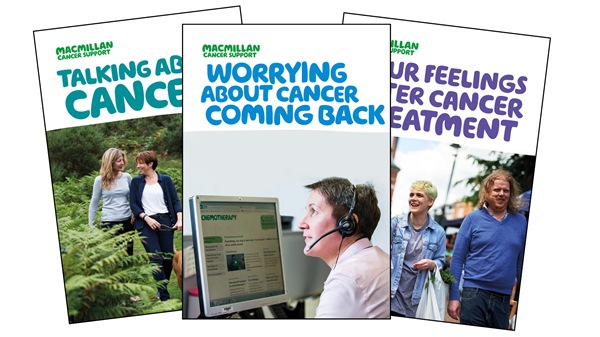 ___________________________________________________________________________________________________
To see what else Macmillan's cancer information team has been blogging about, please visit our blog home page! You can subscribe to receive our blogs by email or RSS too.
We're with you every step of the way
The Macmillan team is here to help. Our cancer support specialists can answer your questions, offer support, or simply listen if you need a chat. Call us free on 0808 808 00 00.
Comments? Feel free to add them below (you need to be logged in).