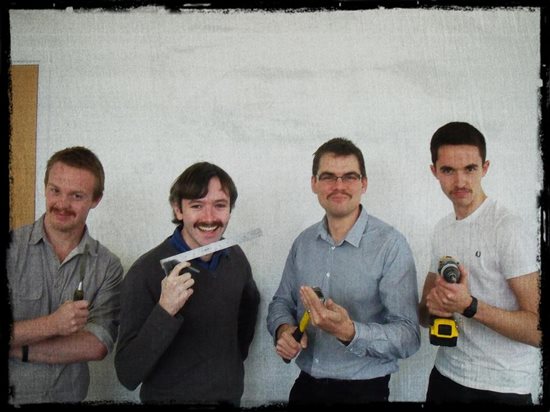 (Our very own Graham from Cancer Information Development is second from the left - and we think he's winning!)
As the first of December approaches, there is much to look forward to with the start of many festive celebrations. But for many, namely the partners of Movember participants, it means the much-anticipated day their partners' Movember moustaches can be finally shaved off!
Whether it be handlebar, pencil, Tom Selleck-style, or something much more Village People like that sported by our own Graham in Cancer Information Development, Movember refers to the month when men grow a moustache in order to raise money and awareness for a good cause.
Yet, when questioned, it seems most people (especially men!) are hazy when it comes to knowing which 'good cause' Movember is in aid of. The suggestions I received ranged from: 'fighting childhood obesity' to 'something to do with cancer' to quite simply 'balls!'
Only one respondent got the answer spot on:
Movember is to raise awareness of men's health issues, particularly cancers affecting men.
It seems that, despite most men taking to their beds at the slightest hint of the formidable 'man flu', when it comes to talking about serious health issues, many men are still stubbornly reluctant or frustratingly lackadaisical. As a result, men are dying an average of four years younger than women.
So I thought the end of Movember is as good a time as any to give you a brief run-down of some of the cancers affecting men, their symptoms, and what men can do to stay healthy.
Prostate cancer
In the UK, 1 in 9 men will be diagnosed with prostate cancer at some point in their lifetime. This cancer generally affects men over 50 and is rare in younger men.
Symptoms to look out for:
difficulty passing urine
passing urine more often than usual, especially at night
blood in the urine (this is uncommon)

If you have any of these symptoms, it's important to pop along to your GP to get them checked out.
Prostate cancer is often slow-growing and symptoms may not occur for many years. Tests such as the PSA test may help to diagnose very early prostate cancer before any symptoms develop. However, this test isn't always reliable and some men who have prostate cancer will have a normal PSA level.
Macmillan's booklet Understanding the PSA test aims to help you decide whether or not to have the test.
Macmillan also has the following booklets to help you if you're having tests for prostate cancer or have been diagnosed (also available in audio – email audiofeedback@macmillan.org.uk):

Testicular cancer
Around 2000 men are diagnosed with testicular cancer in the UK each year. It usually affects young or middle aged men. Treatment for testicular cancer is very effective and nearly all men are cured.
Symptoms to look out for:
swelling or a lump in a testicle, usually painless, but occasionally the swelling may suddenly increase in size and become painful
pain or heaviness in the scrotum

These can be caused by other conditions but, if you have any of these symptoms, ask your GP to check them out.
Testicular self-examination
Testicular cancer is usually curable, but easier to treat when found early. Therefore it's important that men check their testicles regularly (once a month) for anything unusual like a lump or swelling.
It's important that you have anything checked by your doctor as soon as possible. If you feel embarrassed about seeing your GP, you can also go to your local sexual health clinic.
Macmillan has a booklet called Understanding testicular cancer that covers causes and symptoms, diagnosis, staging and grading, treatments and clinical trials. It also talks about emotional and practical issues.
There are also other cancers that can affect both men and women. You can read more about these on our website.
So, for all the men out there, here are some simple tips from the Movember guys on how to stay healthy:
Know your body
Know your family history
Don't smoke - If you do smoke, stop!
Be physically active (read our blog about physical activity)
Eat a healthy diet
Stay at a healthy weight
Drink alcohol only in moderation
Manage your stress
Sleep well

You can read more about this on the Movember website: uk.movember.com
Ideas for blog posts? Let us know.
Comments? Feel free to add them below (you need to be logged in). If you can't see the comment box, click on this blog's title at the top.