Many people with myeloma are now living longer and better lives with treatment. There may be long periods when the cancer is under control and you are living your day-to-day life. But there can still be ways that myeloma can affect you, whether physically, financially or emotionally. Below, our Information Development Nurse Rebecca lists some things that might help.
Physical effects
You may have symptoms, such as fatigue, that affect your day to day life. Or you may be worried about whether you are eating what you should be. Here are some things you can do to help look after yourself:
Get enough rest
Rest is important as you use up a lot more energy when you are coping with symptoms or recovering from treatments. Here are some tips to help you get enough rest:
Ask family and friends to help out with chores such as household tasks and shopping
Save energy for the things you want to do and pace yourself. If you have a busy day, try to rest the following day.
We have more information on how to reduce tiredness on our website.
Keep physically active
Keeping physically active can help you during and after treatment. Ask your myeloma specialist, GP or specialist nurse for advice about the amount and type of physical activity that is right for you. You might find our Move More pack a good place to start.
If you can, take regular short walks. This can help your energy levels and help you feel better. Try to walk for a little longer and further each day.
Being more physically active may improve symptoms such as tiredness, anxiety and difficulty sleeping. It can also strengthen your bones and muscles.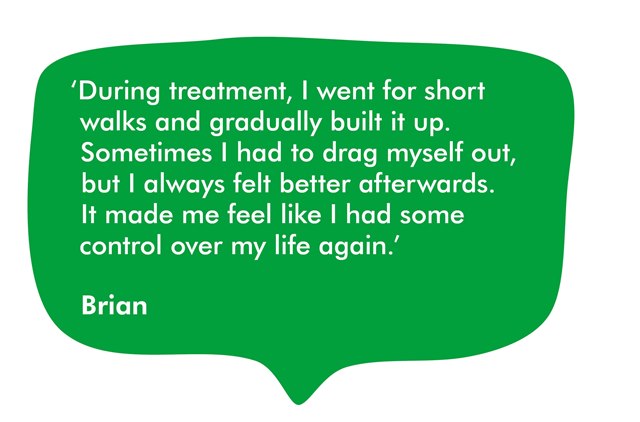 Drink lots of fluids
People with myeloma are more at risk of having problems with their kidneys. Drinking plenty of fluids can help your kidneys to stay healthy. Try to drink around 3 litres (5 pints) each day.
If you are on dialysis, your doctor will advise you on how much you should drink. You will need to drink less because your kidneys are not able to get rid of the fluid.
Eat healthily
Eating healthily improves your general health. It can also help you feel better and have more energy. Try to eat:
plenty of fruit and vegetables
more chicken and fish (especially oily fish)
more high-fibre foods, such as wholegrain bread and oats
less red meat and less processed meat.
You may worry about changes in your weight. Some people with myeloma lose their appetite and may lose weight at times. Or if you are taking steroids as part of your treatment, you may find you put on weight.
We have a range of booklets that may help you, whatever it is you are needing support with:
Ask your doctor or nurse to refer you to a dietitian if you need more advice.
Money worries
Maybe you have extra costs such as travelling to hospital, or symptoms or treatment have made it difficult to work. Or your energy bills may have increased. We have lots of information available on our website to help you. Or you can call our support line and talk to one of our welfare rights advisors or financial guides.
Emotional effects
One of the hardest things to cope with can be the feeling that the cancer and its treatment have taken over your life. Even if you are well for a long period, the uncertainty about what may happen in the future can be difficult to manage at times.
If you are struggling emotionally you are not alone. Some people find it helpful to talk to people in a similar situation. You may find our online community helpful. You can also call our support line to talk through how you are feeling and ways to cope.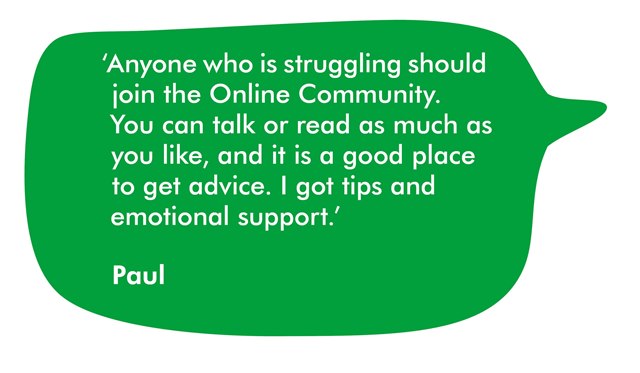 _________________________________________________________________________________________________________
To see what else Macmillan's cancer information team has been blogging about, please visit our blog home page! You can subscribe to receive our blogs by email or RSS too.
We're with you every step of the way
The Macmillan team is here to help. Our cancer support specialists can answer your questions, offer support, or simply listen if you need a chat. Call us free on 0808 808 00 00.
Comments? Feel free to add them below (you need to be logged in).