Now, more than ever, people are appreciating the contribution of nurses to society. Today is International Nurses' Day. To mark it, our Information Development Nurse Teri reflects on her own experiences as an oncology (cancer) nurse, and how the current coronavirus pandemic is changing things.
In recent weeks, the international profile of all health care professionals has risen. There is a greater sense of international connection as they face similar challenges. The familiar scenes of doctors and nurses around the globe supporting patients has helped us to consider what unites us in our chosen careers. It feels poignant for me to reflect on what it means to be nurse.
I have been a nurse for 30 years, most of which time, I have been a cancer nurse. I chose oncology nursing after many of my family members were affected by cancer. I felt my personal experience provided me with empathy and knowledge of how a cancer diagnosis affects the person diagnosed and their friends and family.
When I was a child, my mother and my aunt died of cancer. I was fortunate to have had a positive experience of community nurses visiting our home and it was this that inspired me to become a nurse. However, my experience of having access to cancer information and emotional support was not so good at that time. For this reason, I became passionate about the importance of providing these things to people affected by cancer. I feel this can go some way to helping make a distressing experience a little easier to cope with.
At Macmillan, nurse roles are dedicated to helping people affected by cancer. I have worked for Macmillan Cancer Support in a nursing role for 11 years now and for me, it is the perfect organisation to fulfil the nursing role of supporting and empowering people affected by cancer.
In recent weeks, many cancer nurses around the world have had to adapt their roles to support patients through unexpected changes to their treatment plans and any related physical and emotional impact. This includes support from nurses and other professionals at Macmillan Cancer Support.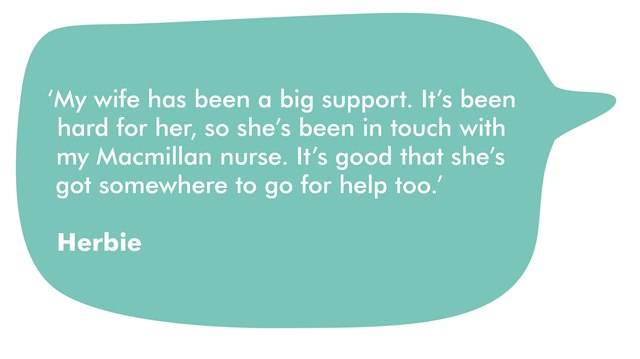 The impact of coronavirus is an additional worry for people affected by cancer. There is also a concern that people with potential symptoms of cancer may feel they cannot visit their GP. However, there is support available.
Support available to people affected by cancer during the coronavirus pandemic
We have a wide range of information for people affected by cancer to access. This includes information on coronavirus for people living with cancer.
If you are worried about changes to your treatment or if you have symptoms that you are worried about, you can call our Macmillan Support Line. Helpline staff include cancer information nurse specialists, who are experienced cancer nurses and can give advice and support to people living with cancer. They can talk you through ways to manage any changes to your care and treatment and any symptoms and side effects that you may have.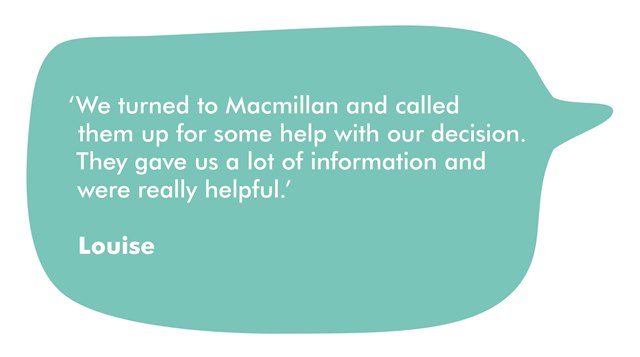 They can answer questions you might have including:
your cancer diagnosis and treatment
tests and monitoring
cancer risks, causes and prevention
symptoms of cancer
side effects
what you might expect at end of life
prognosis for your cancer type
coping with grief.
A cancer information nurse specialist is different to a Macmillan nurse. We also have information about how a Macmillan nurse can help you.
__________________________________________________________________________________________________________
To see what else Macmillan's cancer information team has been blogging about, please visit our blog home page! You can subscribe to receive our blogs by email or RSS too.
We're with you every step of the way
The Macmillan team is here to help. Our cancer support specialists can answer your questions, offer support, or simply listen if you need a chat. Call us free on 0808 808 00 00.
Comments? Feel free to add them below (you need to be logged in).