We want to write information that is useful and accessible to every person affected by cancer. This blog, by our cancer information development nurse Hilary, shows how our volunteer reviewers are helping us write more inclusive information.
Our reviewer feedback
To check that we're getting our information right, we routinely ask the people who use it what they think. Every time we update a piece of information, some of our amazing volunteer reviewers give their time to read and comment. Our team works with a team of 240 volunteer reviewers who provide feedback. Reviewers work flexibly from across the UK, using their own experiences of cancer to help us.
When we started updating our Cancer and your sex life information in 2018, the reviewer feedback suggested the way we present and write this information doesn't work for everyone. Some reviewers asked whether there should be more specific content for LGBT+ audiences. Others suggested that it was difficult for non-binary or trans readers to access, as we had two separate booklets - one 'for men' and another 'for women'.
What did we change?
As much as we could, we rewrote the information to include everyone. We tried to make it accessible to all genders and all sexual orientations. We took care with the language and words we use to describe people, sexual behaviour and relationships. We tried to structure the information so that any reader would easily find the right information for their physical anatomy and sex life. We also worked on how best to format and present the information. There is a lot of content in this topic and we thought about whether every reader would want all of it in one booklet or a few different ones.
How did we test it?
We decided to go back to our reviewers with the updated information and test a few different options. We drafted four 'mock' booklets using the updated information. Two of the booklets offered the information in the current format – a booklet 'for men' and a booklet 'for women'. One booklet included everything for everyone. And the fourth booklet offered some information for everyone and signposted to our website for detailed information about the various side effects.
What happened next?
Our volunteer feedback and showed us what worked and what didn't. It also helped us identify where there are gaps in the information we offer. Some things we have addressed in the updated information. Others are things we're still working on. A huge thank you to those who took part.
You can find the updated information here and can order our booklet Cancer and your sex life here.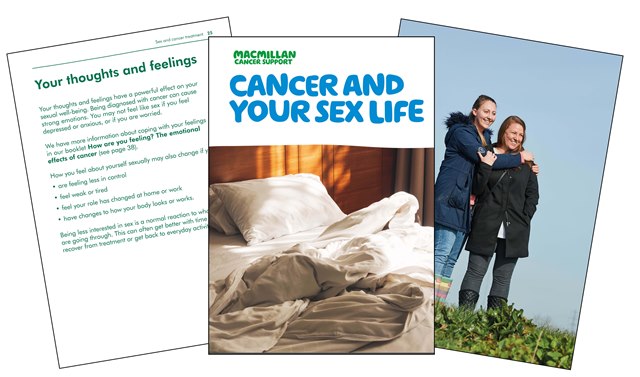 ___________________________________________________________________________________________________________
To see what else Macmillan's cancer information team has been blogging about, please visit our blog home page! You can subscribe to receive our blogs by email or RSS too.
We're with you every step of the way
The Macmillan team is here to help. Our cancer support specialists can answer your questions, offer support, or simply listen if you need a chat. Call us free on 0808 808 00 00.
Comments? Feel free to add them below (you need to be logged in).