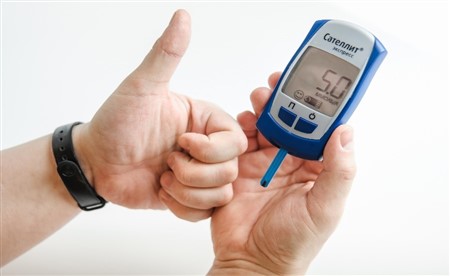 Diabetes Week is held in the second week of June every year. In this blog, Content Developer Azmina gives tips for managing your blood sugar levels during cancer treatment.
Diabetes Week takes place from 10th to 16th June 2019. The charity Diabetes UK organises this special week to spread awareness of diabetes, encourage people to talk about the condition openly and raise money for research.
Managing both cancer and diabetes
About 1 in 5 people with cancer (20%) also have diabetes. Managing both conditions can be challenging, but your specialist diabetes team can give you extra support during your cancer treatment.
Some treatments for cancer can affect the amount of sugar in your blood. This means that doctors may have to plan your treatment more carefully. It is important that you are involved in this planning and that your needs are considered.
Monitoring your blood sugar
While you are being treated for cancer, you should aim to keep your blood sugar within a safe range. This will help protect your immune system, which needs to be strong to fight the cancer.
There are 2 different types of diabetes and some people with type 2 may not be used to testing their blood. However, everyone with diabetes who is having cancer treatment should monitor their blood sugar regularly. Your diabetes team will give you a blood-testing kit, explain what to do and tell you the sugar level you should aim to achieve.
If you already monitor your blood sugar, you may need to do so more often during your cancer treatment.
Sickness and changes in your appetite
Cancer or its treatments can sometimes make you feel sick or be sick. Chemotherapy, radiotherapy, hormonal therapy and targeted therapy can all cause sickness.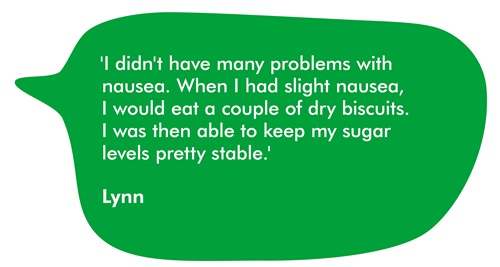 Being sick can be a problem if you have diabetes because you may not want to eat. You may also temporarily lose your appetite during cancer treatment because you feel too tired to eat or foods taste different. Alternatively, some medicines such as steroids may make you want to eat much more than usual.
Here are some tips for coping with sickness and changes in your appetite:
1. If you are being sick or cannot follow your normal diet, contact your diabetes team. They will tell you if you need to adjust your dose of insulin or tablets.
2. Check your blood sugar more regularly (at least every 4 hours when you are sick, including at night). If it is very high and you use insulin, also test your blood or urine for ketones. These are chemicals that can sometimes build up in the body. Contact the hospital straight away if you have ketones.
3. If you do not eat enough food, your blood sugar may drop too low. This is known as hypoglycaemia or a 'hypo'. Symptoms include trembling, sweating, having trouble concentrating and suddenly feeling dizzy, tired, uneasy or irritable.
To treat a hypo, have a fast-acting sugary drink or snack such as fruit juice, non-diet cola or lemonade, glucose tablets or a small handful of sweets. You may need to follow this up with another snack containing slower-acting carbohydrate, such as a couple of digestive biscuits, a slice of bread or a glass of milk.
4. To avoid hypos, try to eat the same amount of carbohydrates as normal and have small but regular snacks. You can choose foods that are easy to digest, such as soup, milk puddings or ice-cream, or dry foods, such as toast or plain biscuits.
5. Even if you cannot manage to eat, remember to keep drinking so that you stay hydrated. Aim to drink a cup of fluid every hour. If you have a poor appetite, your doctor can prescribe you meals in nourishing drinks to sip through the day.
6. Get urgent medical help if you continue to vomit or cannot keep down fluids.
7. If you have a bigger appetite during cancer treatment, try to follow a balanced, healthy diet. This will help you avoid putting on too much weight and control your blood sugar.
8. Your cancer specialist and diabetes team can give you more detailed advice about coping with side effects. For example, they may prescribe you drugs to treat sickness and explain how to improve your appetite or maintain a healthy weight.
Further information
For more information about managing your blood sugar and dealing with other side effects (including diarrhoea, the risk of infection and slow wound healing), have a look at the cancer and diabetes information on our website. Macmillan has also produced a booklet called Diabetes and cancer treatment in partnership with Diabetes UK. You can order a free copy at be.macmillan.org.uk or by calling 0808 808 0000.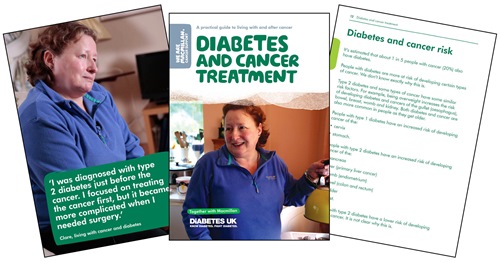 _________________________________________________________________________________________________________
To see what else Macmillan's cancer information team has been blogging about, please visit our blog home page! You can subscribe to receive our blogs by email or RSS too.
We're with you every step of the way
The Macmillan team is here to help. Our cancer support specialists can answer your questions, offer support, or simply listen if you need a chat. Call us free on 0808 808 00 00.
Comments? Feel free to add them below (you need to be logged in).
Keep in touch Follow Macmillan's cancer information team on Twitter @mac_cancerinfo