The 16th International Brain Tumour Awareness Week will be held from Saturday, 29th October to Saturday, 5th November 2023 inclusive. According to 2016-2018 averages, 12,288 people in the UK are diagnosed with primary brain or central nervous system (CNS) tumours per year. The brain and the CNS can be complicated and daunting things to understand, and tumours in this area may seem an overwhelming topic. In this blog, our intern Molly goes over what brain tumours are.
What is the central nervous system and what does it do?
The brain and spinal cord make up the central nervous system. The brain controls how we think, feel, learn and move. It also controls other things in the body we don't have to think about, like breathing. The spinal cord is made up of nerves that run down the spine. Messages between the brain and other parts of the body travel through the spinal cord.
Main areas of the brain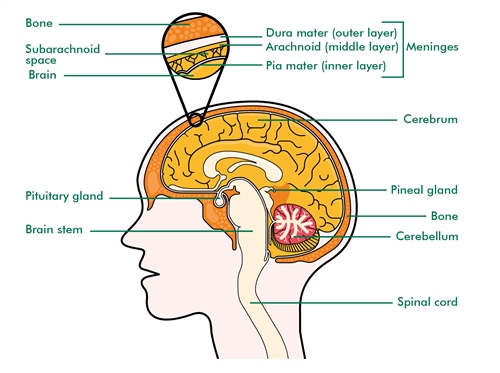 Cerebrum – this is the largest part of the brain. It controls thinking, memory, behaviour, and personality. Cerebellum – this controls balance and coordination. Brain stem – this controls important body functions, such as breathing, heart rate, and body temperature. Pituitary gland – this makes hormones that control other hormone-producing glands in the body. Pineal gland – this makes a hormone called melatonin, which helps control sleep patterns.
What are brain tumours?
A tumour that starts in the brain is called a primary brain tumour. These can be benign (not cancerous), which usually grow slowly and may not cause symptoms for a long time. They can also be malignant (cancerous), which grow faster than benign tumours, and can cause problems by spreading and affecting nearby areas of the brain.
Primary tumours are different to brain tumours that have started somewhere else in the body and spread to the brain. These are called secondary brain tumours or brain metastasises.
Often, brain tumours are described in terms of their type and how quickly they grow, which is called their grade. Brain tumours are often named after the cell they develop from or the part of the brain they start in. There are a lot of different types of brain tumours. You can find more information about specific brain tumours on our website.
Diagnosing brain tumours
If your GP thinks you may have a brain tumour, they may arrange for you to have a brain scan. They might refer you directly to a doctor who specialises in brain disorders (a neurologist). We have more information about how brain tumours are diagnosed on our website or in our resources on brain tumours, which are available to order free in various formats here.
If you are diagnosed with a brain tumour, your doctor will advise you on the best treatment options for your situation. You may find it useful to read experiences or talk to other people who have been affected by brain tumours in this Macmillan Online Community group.
If you have any more questions about brain tumours, remember you can call the Macmillan Support Line free on 0808 808 00 00, Monday to Friday, 9am to 8pm.
__________________________________________________________________________________________________________
To see what else Macmillan's cancer information team has been blogging about, please visit our blog home page! You can subscribe to receive our blogs by email or RSS too.
We're with you every step of the way
The Macmillan team is here to help. Our cancer support specialists can answer your questions, offer support, or simply listen if you need a chat. Call us free on 0808 808 00 00.
Comments? Feel free to add them below (you need to be logged in).