How often do you check your mouth? With the incidence of mouth cancer on the rise, checking your mouth once a month might just save your life! Our cancer information nurse Samantha Chilton explains how and what else you can do.
What is mouth cancer action month?
November is Mouth Cancer Action Month. This campaign is dedicated to raising awareness and understanding of mouth cancer and the need for early detection and prevention.
What is mouth cancer?
Mouth cancer is one of the most common types of head and neck cancer. It is also known as oral cancer. It can start in any part of the mouth (oral cavity) and includes cancers affecting:
lips
tongue (the part that you can see which is the front two-thirds)
floor of the mouth, under the tongue
upper and lower gums
roof of the mouth, called the hard palate
inside of the cheeks
area behind the wisdom teeth
Did you know?
'The State of Mouth Cancer UK report 2022' by the Oral Health Foundation highlights that:
8,846 people are diagnosed with mouth cancer in the UK each year
this means almost one person is diagnosed in the UK with mouth cancer every hour
mouth cancer is TWICE as common in men than in women
80% of cases occur in those over the age of 55
the number of people diagnosed with mouth cancer in the UK continues to rise.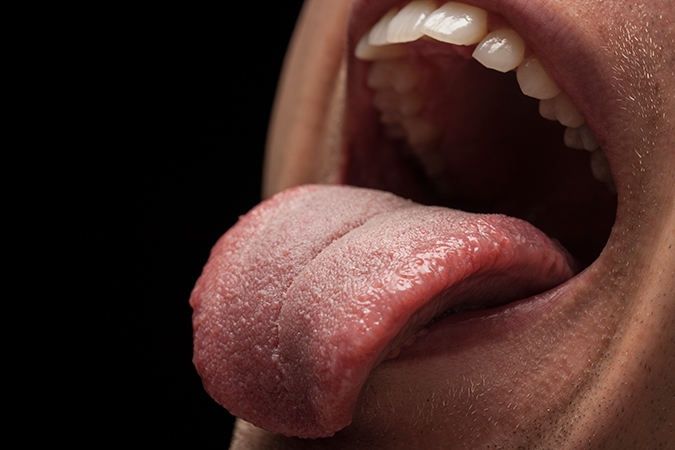 It is important to be aware of possible signs, symptoms, and risk factors for mouth cancer. Knowing what symptoms to look out for means mouth cancer is more likely to be diagnosed early when it is easier to treat. Knowing the possible risk factors that may cause mouth cancer helps us to know how to reduce the risk of getting it.
Risk factors
Mouth cancer can affect anyone. However, some risk factors can increase our chance of developing it. Most of them are linked to lifestyle:
smoking or chewing tobacco
drinking large amounts of alcohol - your risk of developing mouth cancer is higher if you drink and smoke
chewing betel quid (paan), gutkha or pan masala, either with or without tobacco
long-term ultraviolet light exposure from sunlight, sunbeds or sunlamps can increase the risk of lip cancer.
Having one or more risk factors does not mean you will get mouth cancer. Also, having no risk factors does not mean you will not develop mouth cancer.
Mouth Cancer Signs and Symptoms
With certain symptoms, your dentist or GP should refer you to a specialist within 2 weeks. This is called an urgent referral.
The most common symptom of mouth cancer is an ulcer or sore that does not heal in 3 weeks. This may be in the mouth, tongue or on the lip.
Other symptoms may include:
white patch or red patches anywhere in the mouth
difficulty or pain with swallowing, chewing or moving the jaw
a lump or thickening anywhere in the mouth or on the lip
a lump in the neck
bad breath (halitosis)
bleeding or numbness in the mouth or on the tongue
teeth that become loose or dentures that do not fit well anymore
unexplained weight loss
We have more information on mouth cancer. Other types of head and neck cancers may have other symptoms and risk factors. We also have information on tongue cancer, oropharyngeal cancer, salivary gland cancer, nasopharyngeal cancer and nasal and sinus cancer.
What can I do?
One of the best ways to detect a mouth cancer early is by doing a self-examination of your mouth and neck at home.
The Mouth Cancer Foundation have produced a simple 2-minute self-check guide so you can check your mouth once a month.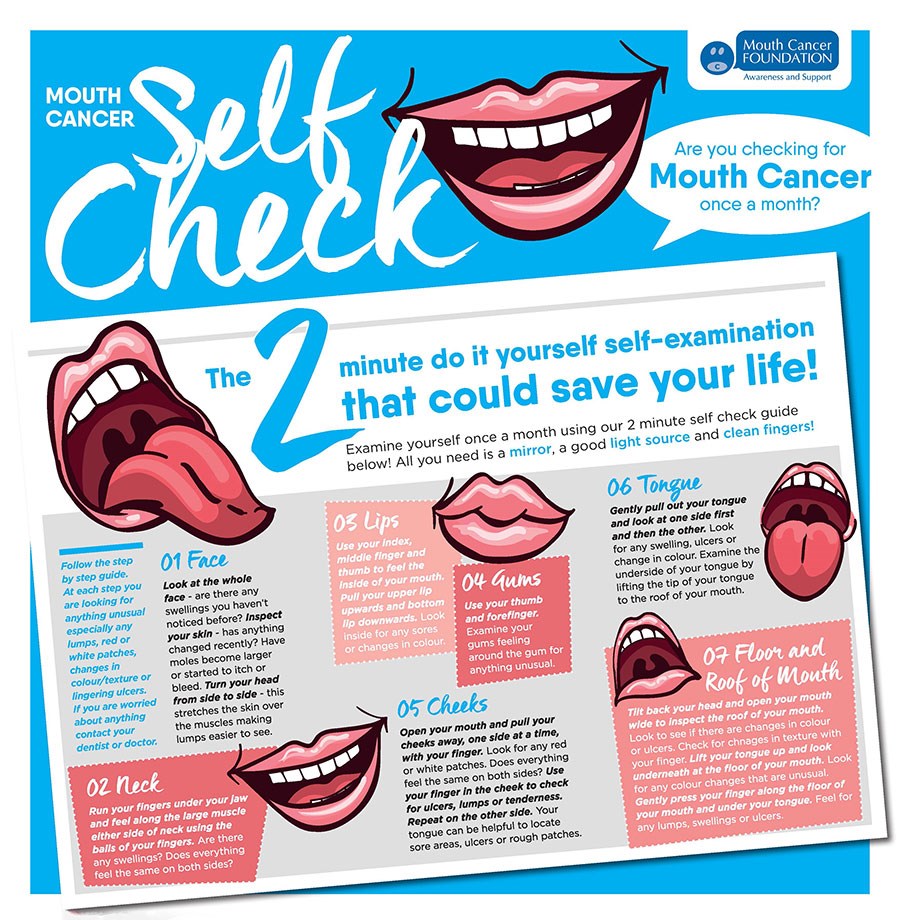 Make a note of anything unusual. If you have recently had a cold, sore throat, ulcer or swollen glands, bitten or scolded yourself, these should heal within 3 weeks. Visit your dentist or doctor if you develop a new symptom in your mouth that does not go away.
It is also important to have regular dental visits. As part of your routine check-up, your dentist will always do simple checks that can alert them to the early signs of a possible mouth cancer.
Where can I get further information and support?
On our website, you can read more about head and neck cancers.
You can call our cancer support specialists on 0808 808 00 00 or visit our online community to talk to people affected by mouth cancer.
---
You may also like 9 things you might not know about mouth cancer.