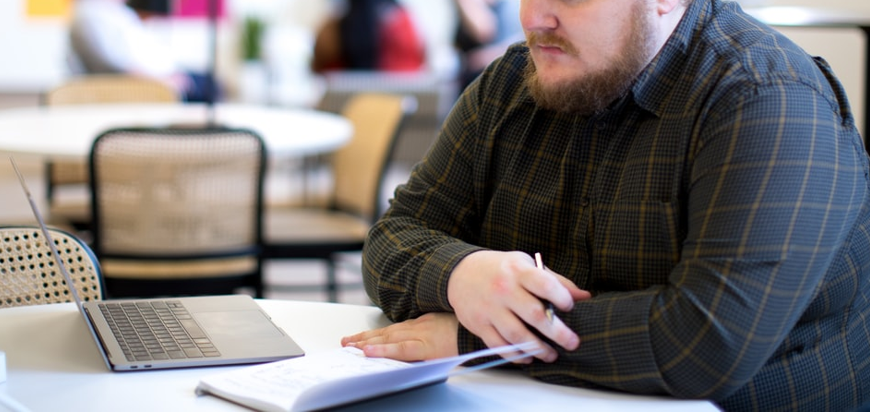 Lots of members on the Online Community are supporting a loved one through cancer. It can sometimes be difficult to juggle work and caring for a loved one while they're going through cancer treatment. If this is your situation, you're not alone. Today we're featuring a blog from Emma, one of our Work support advisers on Macmillan's Support Line. Emma is here to talk all about your rights at work and what support you can access as a carer.
We know that work is a common conversation topic in our 'Carers only' group. If you're working while being a carer, taking time off or still making a decision, there may be someone else on the Online Community who knows exactly how you feel.
"I think i need to focus on my parents, my dad is poorly too, so I know working and caring will burn me out. I just don't know what to do, or see a solution?... I just know I want to and need to be there for my mum as much as I can. Life sure throws curves at you when you don't need them!"
Online Community member, 'Carers only' group
"My husband was diagnosed in June 21 with stage 4 terminal lung cancer. I've been off sick since then caring for him and so glad I've not had to worry about or fit work into every day alongside being his only carer 24/7."
Online Community member, 'Carers only' group
"I'm supporting my husband through his stage 4 brain tumour journey. We've known from the outset that his diagnosis was terminal but I have kept working full time so far…I work for a large firm (a bank) but have been able to work from home with only the occasional day in the office. This has given me the flexibility to cover appointments and be there in case he needs me. Work has also kept me focused. I struggle more with the whole thing on days I don't work than I do while at work."
Online Community member, 'Carers only' group
Macmillan are here to help. If you have any questions around the information in our blog today, please remember that Emma and our team of Work support advisers are available on Macmillan's Support Line 8am to 6pm, Monday to Friday on 0808 808 0000. Just select option 1, then 2, then 3. You can also reach our Work support team over email or live webchat.
As there is a lot of information in this blog, you can use the below headers to find the section that may feel most helpful for you:
On the Macmillan Support Line, we often take calls from people who are supporting people with a cancer diagnosis on an unpaid basis. Whilst you may not think of yourself in this way, people in such a position are classed as carers. Without your support in providing things such as transport to appointments, speaking to health care professionals, help with personal care, or the emotional support you provide, the person you're supporting may not be able to cope. Your care is also vital to society – research by the charity Carers UK released in November 2020 showed unpaid carers were saving the state £530 million every day.
At Macmillan we recognise the difficult balancing act carers can have between keeping in employment and caring for your loved one. Maintaining that balance between work and caring responsibilities can be tough but is vital for many carers. There is often so much more to work than the pay packet, such as the mental health benefits, emotional support from colleagues or sense of identity. It's important that you make the decisions that are right for your individual situation as a carer. As well as caring for the person who has been diagnosed with cancer, you should also look after yourself and your wellbeing. Otherwise, you may not be well enough to continue to provide that care.
On the Work Support team, we can help maintain that balance by providing information on Employment law rights. It's important for you to know as a carer about your rights at work so you understand legally what support you are entitled to ask your employer for without feeling a sense of guilt. For some, this might be looking at taking time away from work to concentrate on their loved one's care. For others, it may be a combination of working and caring. By providing information, carers can then make informed choices around what's right for them, the cancer patients they care for, and their families.
What Steps Should A Carer Take At Work?
The first step we would always recommend is to check policies at work. Although paid time off is not a basic right, for some employees there may be policies in place that allow this, such as ones around compassionate leave or written expressly for carers. A good starting point would be looking at an employee handbook, employment contract or company intranet. If comfortable, you could speak to your manager and ask for support. Or, if you are a member of a union, the union may guide you towards supportive policies.
The next step will be planning how to balance work commitments around the care you need to provide. Our booklet, Questions For Carers To Ask About Work And Cancer may be useful to find the answers to some questions employers commonly want answering.
Under the Employment Rights Act 1996, carers are entitled to a reasonable amount of unpaid time off work to deal with an unexpected event involving someone who depends on them. Under the Act, a dependant would be classed as anyone who relies on you if they became ill and isn't limited to family members.
If you want to balance work with your caring responsibilities, one option to explore would be flexible working. Some employers may be willing to agree changes on an informal basis. If not, once an employee has worked for their company for 26 weeks, they have a legal right to make a formal request to change the way that they work. It could include changes such as:
Reducing hours
Changing start and finish times
Moving to flexible hours
Compressing hours (working more hours over less days)
Working from home
An employee can only make one formal request per 12-month period and the request can only be refused for "permitted business reasons". The Working Families charity have some very useful information on how to submit requests, including a template letter and how to appeal if the request is turned down.
Some carers may want to take time away from work to concentrate on their caring responsibilities. One way to do this and be paid may be to use annual leave, however for some the length of their absence may make this impossible. Instead of resigning you could consider a career break. This may sometimes be called a sabbatical. As there is no law written around either term, it's wise to gain an agreement in writing to avoid any confusion. The agreement should cover details such as:
What pay you will receive whilst not working
Whether you will return to your pre break role, a similar role, or a different role
Whether continuity of service will apply, or will your employment contract restart
Whether the same terms and conditions of your contract will apply
The date you will be expected to restart
Parents of Children with Cancer
Parents or legal guardians of children affected by cancer can take unpaid parental leave if they have been with their employer at least a year. You can take up to 18 weeks total per child if your child is under 18, but your employer might require 21 days' notice and limit this to 4 weeks a year. Unless your child is claiming Disability Living Allowance or Personal Independence Payment, you may also be required to take it in blocks of a week. If your child is claiming these benefits, you can take unpaid time off in blocks of a day or more.
On occasions you may feel that your employer has made decisions which are discriminatory around your caring responsibilities. Whilst carers do not have the same protection under the Equality Act 2010 in England, Scotland and Wales (Disability Discrimination Act 1995 in Northern Ireland) as a person who has cancer does, you do have some protection due to your association with the disabled person you care for. You are protected from:
Direct discrimination
Harassment
Victimisation
Direct discrimination may exist in situations where a carer is treated less favourably than someone who does not have to care for disabled person. For example, if you were denied a promotion at work because the hiring manager felt you couldn't balance your caring responsibilities with the extra duties. Even if the hiring manager felt they were trying to help, this could still be classed as discrimination.
Harassment is when a carer suffers unwanted conduct with the purpose or effect of violating the persons dignity due to something linked to their caring responsibilities for someone with cancer. Additionally, if a hostile working environment is created, this would be protected for the same reason. It might be verbal, such as jokes made. Or written in emails. Or spoken comments such as someone making comments about the person you care for which upset you.
Victimisation is when someone receives poor treatment because they intend to do, or have done, something that is protected by law. This might be helping the person you care for ask for their rights as a disabled person to be recognised. For example, submitting a request for reasonable adjustments or supporting someone making a complaint about discrimination or harassment. The protection is intended to prevent people from being deterred from acting due to fear of further adverse treatment.
If as a carer you feel you are being discriminated against, you may need support in deciding what action to take. On the Work Support team we can offer a listening ear, act as a sounding board, and give advice around your options without judgement. We are also happy to support with any questions you may have about your rights at work. We're available from 8 am to 6 pm, Monday to Friday on the free helpline 0808 808 0000, option 1, then 2, then 3.
Our booklet Managing Cancer In The Workplace can be useful to share with your employer. It outlines your rights as a carer and what support may be useful at work. Carers UK also has lots of useful information on their website for working carers. We also have a Macmillan booklet you can order paper copies of – Working Whilst Caring For Someone With Cancer. Most importantly, know that you are not alone as a carer and can reach out to us for support if you need it.
Do you feel supported as a carer to make the right decision for you? There can be a lot to consider when it comes to talking to your employer and ensuring that you have the right support. However, there's also lots of support services available from Macmillan and other organisations. Why not share your experiences with being a carer and managing your working arrangements in the comments below, to let other members know they're not alone?