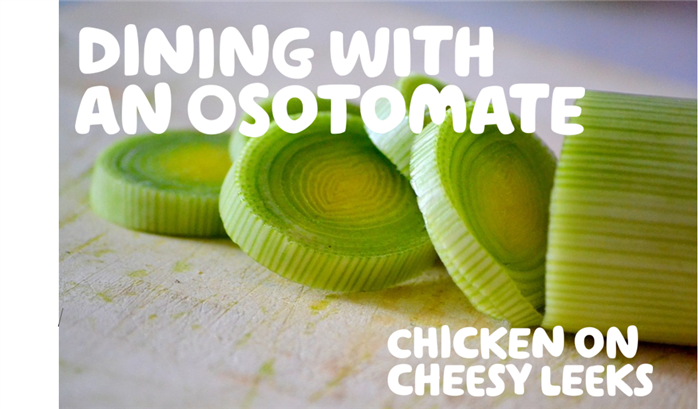 During this time of uncertainty many of us have turned to cooking as a way of keeping us busy and relieving stress. We are pleased therefore, to bring you Debbie's delicious cheesy leeks recipe today.
Debbie is our wonderful 'chef to Ostomates' and all of her recipes are, of course, designed with Ostomates in mind. In case you've missed any of her recipes to date, you can find them all in our Ileostomy, colostomy and stoma support group here. So why not put an apron on and get cooking!
This is a really easy, quick and tasty mid-week supper. I never experienced any problems with eating leeks when I had my ileostomy, but if you are concerned about them being too fibrous make sure you cook them until they are really soft and puree them with a handheld blender. I often don't add the Ciabatta.
Chicken on Cheesy leeks
Serves 4, easily halved
Ingredients
3 leeks, finely sliced
150g Garlic and Herb soft cheese (eg. Boursin, Philadelphia)
4 skinless chicken breasts
8 Parma Ham slices
3 tbsp olive oil
75g ciabatta-style bread, torn into small pieces.


Method
Preheat the oven to 190 degrees C (170 degrees fan.) Heat 1 tbsp oil in a large pan and gently fry the leeks for 15 minutes until softened. Stir in the cheese and 100ml water. Check seasoning, then pour it into an ovenproof dish about 1.5 litres.


Wrap each chicken breast in 2 Parma Ham slices and nestle into the leeks.


Toss the ciabatta in the remaining oil and season. Scatter over the top.


Cook for 20 – 25 minutes until the chicken is cooked through and the topping is golden.
Missed out on any of Debbie's earlier recipes? Find them all here. Thoughts on food and cancer, or perhaps a recipe you wish to share? Go ahead and do so using the comments section below. You might also like to join our Ileostomy, colostomy and stoma support group to talk to other Ostomates.