Creativity can be a helpful tool to find comfort and support. For Community member and Macmillan volunteer Wee Me, the Online Community's "Express yourself" group and taking the time to be creative has been invaluable throughout her experience with cancer. Wee Me's husband was diagnosed with a Glioblastoma brain tumour in September 2020. Wee Me has shared her story on Community News.
6-12 June 2022 is Carers Week, and the theme this year is ''Make caring visible, valued and supported'. Writing and journaling have helped Wee Me to feel seen and supported. Today, Wee Me is here to talk about how you could give being creative a go, with support from the Community.
I don't know if you've discovered it yet but there's a group within the Online Community called Express Yourself. This is a safe space for members to express themselves in a more creative manner. It's not to be confused with The Room where you can visit to vent, have a rant and get it all off your chest. Let's face it, we've probably all felt that need at one point or other!
Express Yourself is a hidden gem in the Online Community and, if you take the time to explore it, there's some incredibly touching poems in there.
Not everyone is a poet or wants to be, but everyone has the ability to express themselves in some creative way or other.
It's been proven that creativity is a positive way of coping with day-to-day life. That goes for everyone in life but especially those impacted by a cancer diagnosis or those supporting/caring for someone on their cancer journey or those who have lost someone close.
"Creativity in the form of art, dance, music etc are coping skills used by the general population in order to reduce the level of stress they go through. Sketching, painting, singing, learning to play an instrument, colouring, mandalas, stitching/knitting/crochet, making the best out of waste (upcycling) are all ways in which coping can be done"
Psychologs magazine article on 'Creativity and coping'
Creativity for me means writing and journaling and blogging. Hence the reason this blog even exists!
"For me, writing is my escape from the intensity of living day to day. Life is busy and there are days when I just can't face picking up my pen but it's an escape that's always there when I need it."
Over and above the day job and caring for my husband, I'm an indie author so words are what I do. What's an indie author? I hear you ask. It's one who does it all themselves, doesn't have a literary agent and isn't connected to a publisher. I'm a bit of a one-woman band who does it all – writing, editing, proofreading (I do have 5 wonderful friends who help with this bit), cover design, publishing (in my case via Amazon's KDP platform) and marketing (I'm not very good at that bit.)
For me, writing is my escape from the intensity of living day to day. Life is busy and there are days when I just can't face picking up my pen but it's an escape that's always there when I need it.
I also write a weekly blog on a wide variety of topics with posts of varying lengths. Some weeks it might just be one photograph that I've taken (Photography is another creative outlet I enjoy), some weeks it might be a short story and others it might be a poem. Again, it's a way of expressing myself and escaping from the reality around me.
Journaling is a coping mechanism that I've used for years and it's a great way to vent! Yes. I've visited The Room on occasion and let off steam but I usually journal and get my thoughts and feelings down on paper. Seeing them written down takes the power/fear out of them. I'll confess there is one entry in my journal where I've simply written the F-word all over the page. It had been a rough day. It got it out of my system.
So, how can you explore using creativity as a coping mechanism and Express Yourself?
I mentioned poetry earlier. You perhaps recall from your school days that not all poems have to rhyme. Personally, I find acrostic poetry the easiest and most cathartic. Try it. Pick a word- any word- and write each letter on a different line-
W
A
I
T
I
N
G
Then write a word or a few words starting with each letter e.g.
What if? When? Why me? Why us?
Appointment after appointment.
Initial Diagnosis then
Tests and scans never ending.
Impatient to know what's going on inside.
Not knowing far worse than knowing.
Growing ever more anxious til the truth is known.
"It's up to you whether you share your efforts but the Express Yourself group is an ideal place to share. (hint)"
Another easy thing to try is to draw a circle on a plain piece of paper. (draw round a small plate or bowl). Draw a small design in the centre such as a heart or a flower or a pawprint. Then, writing in circles, write a ring of one word then in a different colour write a second ring using a different word and so on until you fill your circle.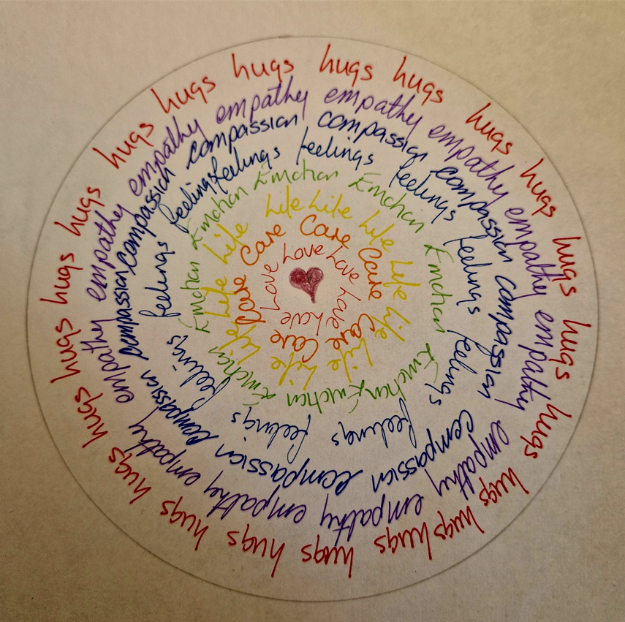 Once complete, you've created your first mandala.
If you feel like writing a short story or even writing a book, you might feel drawn to write about your experience so far. You might feel drawn to write about moments in life that have mattered to you. I always think back to my own high school days in the 1980's and recall the advice of my English teacher. I paraphrase but he said to "write about things you are passionate about and places that are close to your heart". When starting each new writing project, whether it's a book baby or a short story, its advice that I heed and so far, so good.
Creative pursuits should be an activity that takes your mind off your current reality, reduces the stresses and strains of the day and is an activity that you enjoy. It should make you smile. As I mentioned in the quote I used earlier, creativity comes in many guises so why not explore a few until you find one that truly allow you to Express Yourself?
Do you find being creative helpful? Would you like to try it? Why not share something you've made, or explore some ideas in the "Express yourself" group. Lots of members like Wee Me find the group really helpful as a place to find support and encouragement. As Wee me has said, everyone has the ability to try to be creative in a way that works for you.
Let us know in the comments below how creativity has helped you, or something you do that helps you to cope with your experiences.
Thank you to Wee Me for taking the time to write this blog post, and for sharing the images used within this blog post.

Read more from Wee Me: