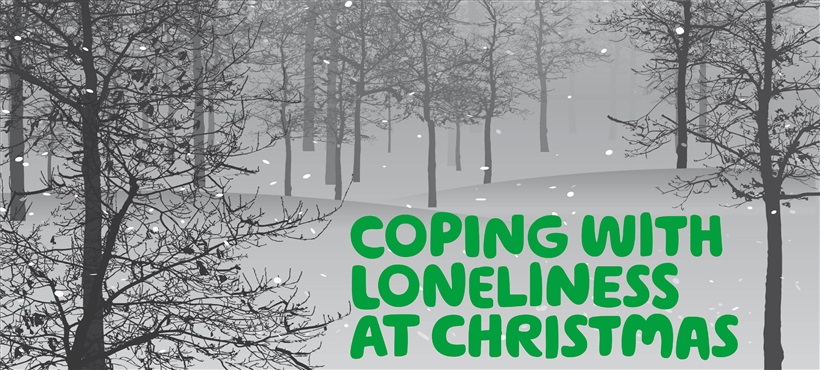 According to research by Macmillan, 16% of people living with cancer find Christmas one of the loneliest times of the year. In this blog, Content Developer Azmina gives tips for coping if you are
feeling lonely or isolated over the festive season.

People around you are celebrating, the streets are full of sparkly decorations and TV adverts bombard you with images of the perfect family Christmas, with all the trimmings. Yet, you may feel isolated from the festive cheer of others.

There are many reasons why you may feel more alone over the Christmas period. You may have to spend time in hospital or be unable to afford to visit relatives if you cannot work. Cancer treatment may make you very tired or change your sense of taste. This can make it more difficult to enjoy Christmas dinners, parties or family gatherings.
If you live by yourself, being ill can make you feel more vulnerable. The thought of spending Christmas Day alone can be a daunting prospect. Even if you are surrounded by people at Christmas, it may seem like nobody understands what you are going through.

5 tips for coping with loneliness at Christmas
Here are some tips to help you cope over the Christmas break:
Relax and unwind
You may find it helpful to plan what you would like to do on Christmas Day. If you will be by yourself, you could spend it doing something you enjoy like watching TV, reading a good book, listening to music or having a soothing bubble bath.

To help you unwind and let go of any negative feelings, you could try some simple breathing and relaxation exercises. You could also try mindfulness meditation, which is an approach that can help you change the way you think about different experiences and reduce stress and anxiety.


Reach out to others
If you would prefer some company on Christmas Day and have family or friends nearby, tell them how you feel. They may be happy to make another space at their Christmas dinner table.

Perhaps you could meet up with a neighbour who is also spending Christmas Day by themselves? If you are feeling well enough, you could volunteer for the day at a local charity, soup kitchen or animal shelter. You can find local volunteering opportunities at do-it.org

For details of community Christmas events, visit your library, the Community Christmas website for older people or meetup.com


Call the Macmillan Support Line
Whatever you are going through this Christmas, Macmillan is right there with you. Sharing how you feel with someone can help you to feel less alone and improve your mood.

If you need to talk to someone over the festive period, call our cancer information advisers free on 0808 808 00 00. The opening hours for our support line over the festive period are as follows:

24th December, 8am-5pm
25th December, 9am-5pm
26th December, 9am-5pm
31st December, 8am-5pm
1st January 9am-5pm

Join Macmillan's Online Community
You could join Macmillan's Online Community at community.macmillan.org.uk, where you can connect at any time with others affected by cancer.

Community member Dave, who was diagnosed with prostate cancer in 2014, explains that hearing from others in a similar situation made him feel less alone:

Look after yourself
Having a healthy balanced diet can be difficult at Christmas, but it is one of the best choices you can make for both your physical and mental health. Many people find making the decision to follow a healthy, balanced diet helps give them back a sense of control. It can also help you feel that you are doing the best for your health.

Being physically active can also reduce anxiety and stress. It doesn't have to mean going to the gym on Christmas Day - a gentle winter walk can help you to keep active and boost your mood. Try to notice and appreciate all the different sights, sounds, smells and sensations in your surroundings.

Further information
The most important thing this Christmas is to do what you're comfortable with. Remember that some people will find these suggestions useful, but different things work for different people. Try not to put too much pressure on yourself and if something isn't working for you or doesn't feel possible right now, that's ok. You can always try something else, or try again another time.
For more information about coping with loneliness, you can order a free copy of Macmillan's booklet How are you feeling? The emotional effects of cancer at be.macmillan.org.uk
You can also use our Directory of Information Materials for People Affected by Cancer. It has details of over 1,900 booklets, leaflets, books and audiovisual materials for people affected by cancer. It is regularly updated and you can use it to search for our resources and those from other organisations.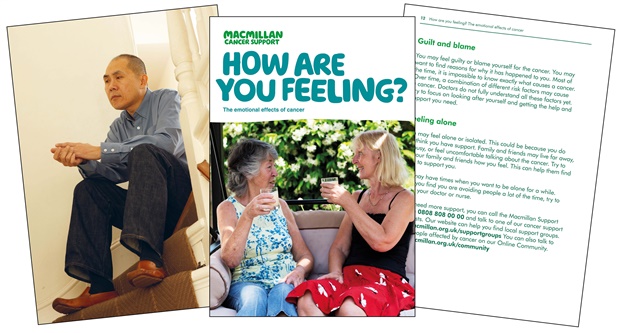 ________________________________________________________________________________________________________
To see what else Macmillan's cancer information team has been blogging about, please visit our blog home page! You can subscribe to receive our blogs by email or RSS too.
Whatever cancer throws your way, we're right there with you.
The Macmillan team is here to help. Our cancer support specialists can answer your questions, offer support, or simply listen if you need a chat. Call us free on 0808 808 00 00.
Comments? Feel free to add them below (you need to be logged in).